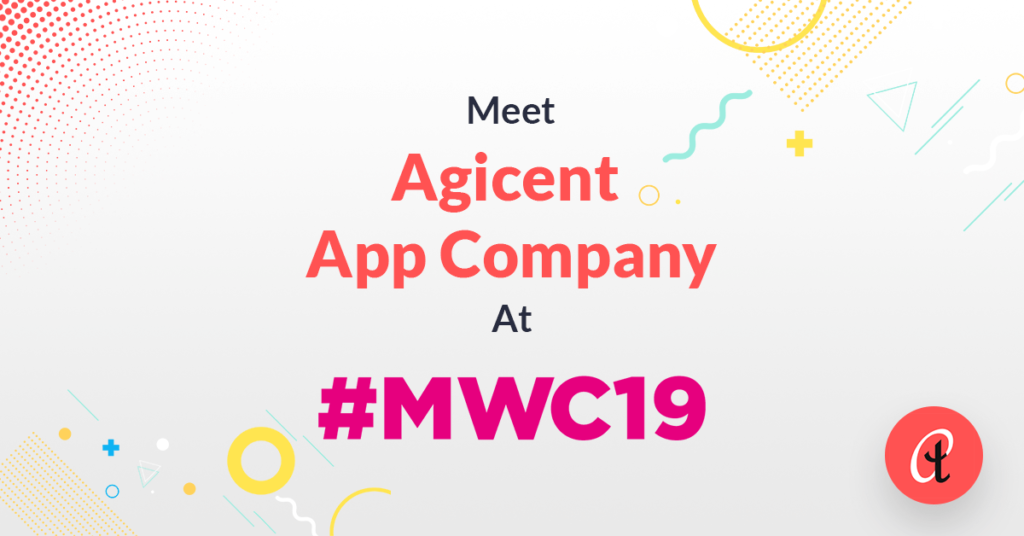 Meet Agicent at MWC 19, Barcelona
Meet Agicent App Company at MWC 2019 (Hall 5, B2B Matchmaking Event) for networking and business opportunities!
Mobile World Congress is the world's largest event for mobile industry influencers and institutions to get together under one roof where they can talk about mobile technology growth and find potential business opportunities. GSMA is organizing the event at Barcelona, 25th February to 28th Feb 2019. This year, we are also attending Mobile World Congress 2019 and plan to catch you there.
If you are also going to attend MWC 2019, then do catch us to talk about innovative and mobility solutions for your startup business over a cup of coffee or beer. The choice is yours and beverages are on us! Just drop a note to sudeep@agicent.com and book a meeting, we are at Hall 5 (B2B Matchmaking Events Venue).
MWC event is growing every year. Around 110k people attended the event last year, and this year the number has grown to around 12ok. The mobile world is growing at an exponential rate. The number of mobile users has already surpassed the number of desktop users. So, if you are not targeting mobile to expand your user base, then you need to rethink your business development strategy. MWC is a great place to get connected with mobile industry specialists like us who can help you win the growing competition in the mobile app space.
We will attend the mega event all the days; including the after event party. You can find our Founder, Sudeep Bhatnagar and chat about your business and ways you can optimize business operations to get the best results. If you are attending Mobile World Congress, then you can directly reach out to him via Sudeep@agicent.com or Message on their Skype sudeepbhatnagar.
Why you should meet us at MWC 2019?
– Agicent is one of best app development companies targeting SMEs, early-stage startups in the US, India, and around the globe.
– We provide native, hybrid, and cross-platform development services. Not just these, we recently entered into the VR/AR app development domain targetting Android and iOS platforms.
– Get responsive, secure, and scale-able web solutions based on your business requirements. We can work on any mobile, web, or DB technology as per your needs.
– Our experienced team of developers can build an AI or machine learning solution for your complex business operations.
– Other than regular app development, we also offer complementary App maintenance packages, Free initial App promotion boost, Marketing consulting, and we also face your investors your CTO.
Schedule your meeting via our Contact Us page or send your queries directly at Sudeep@agicent.com. You can also schedule a meeting at B2B matchmaking event via this link – https://mwc2019.b2match.io/participants/327
See you there!
Our recent posts: