Best AI Chatbot Apps to Revolutionize Conversations
Chatbots are intelligently written programs that are specifically designed to interact with humans in a natural manner. Earlier chatbots (rules-based) could just handle simple conversations, but with the advent of intelligent AI technology, chatbots have now become smarter than they used to be in the past. Now, AI-enabled chatbots can learn and grow on their own while interacting with users. And in rare cases, they can even make them think as if they are talking with a human on the other side. If you don't believe it, then check out the list of the best AI chatbot apps and how they are revolutionizing conversations.
How AI Chatbot Apps are Changing Company Marketing and Business Operations?
If you are thinking of creating a website in 2023 without a chatbot then rethink it. AI chatbots are playing an important role in transforming marketing and business operations in many ways. Some trending chatbot statistics are: 23% of customer organizations are currently using AI chats for better and improved customer engagement. Personalization: 80% of people have interacted with a chatbot at some point. Chatbots are quick to answer and have 24/7 availability. Global Chatbot marketing revenue is expected to reach $454 million U.S. dollars by 2027 as per Statista survey. AI chatbots are used for marketing automation tasks such as sending promotional messages, gathering customer feedback, conducting surveys, and so on.
Below is the table showcasing the ratings, price, and category of the chatbot apps. 
| Name | Ratings | Price | Category |
| --- | --- | --- | --- |
| ChatGPT | NA | Free | Entertainment, Education, Marketing |
| Copy.ai | 4.5/5 | Free | Entertainment, Education, Marketing |
| Replika | 4.5/5 | Free | Entertainment |
| Chai | 4.4/5 | Free | Entertainment |
| Simsimi | 4.0/5 | Free | Social Networking |
| Andy English | 4.7/5 | Free | Education |
| HubSpot Chatbot Builder | NA | Free | Business |
| Zendesk Support | 4.5/5 | Not-Free | Educational |
| ManyChat | 4.5/5 | Free | E-commerce and Support |
| Drift | 4.6/5 | Free | Business |
Let's go through the list of the Best AI Chatbot Apps to Revolutionize Conversations in detail:
ChatGPT, the recently launched, highly popular and well-known AI chatbot on this list. The AI Chatbot got more than 1 Million users in one week and currently has more than 100 Million active users and still counting. More precisely it is described as a natural language processing (NLP) model. By now everyone is aware of the fact that it is trained on a large set of text data to generate human-like responses to text input. As it is based on the powerful GPT-3 language model, ChatGPT is capable enough to generate highly coherent and plausible responses to a wide range of topics. Hence, it is a useful tool that is being used for various purposes such as language translation, text summarization, and conversation generation. 
Features:
Smooth integration with a variety of applications and platforms.

Seize the users in a conversation with a natural and human-like manner.

Capability to handle a wide range of conversational topics and scenarios.

Grasp and adapt to new situations and contexts.

Pre-educated datasets which might be already available.
Pros:
Ask anything and get responses to everything.

Responds constantly to frequently asked questions.

Highly accurate with a low rate of positives and negatives.

Highly scalable and efficient hence making cost-effective options for firms.
Cons:
Sometimes can provide inaccurate and misinformed information.

Lack of empathy: ChatGPT is incapable of understanding human emotions.

Limited range of topics as it is trained on specific datasets.
One of the alternatives to ChatGPT is Copy.ai, which is the latest addition to an expanding list of artificial intelligence writing tools. It is convenient, adaptable, and driven by GPT-3 language model. It creates a human-like text within seconds. With this AI tool, you will be creating better headlines, email subject lines, and meta-descriptions along with the idea to write a blog outline and intro as well. The founders of Copy.ai are Chris Lu and Paul Yacoubian. While living together in San Francisco they founded this tool in 2020. With the objective of creating software that uses AI and machine learning algorithms to produce compelling copy that helps business owners, marketers, and even copywriters. Famous companies such as Nestle, Zoho, and eBay uses copy.ai to generate content. 
Features:
Amazing sentence rephraser.

Better sentence structure.

Autocorrect is available.

Availability of content tone checker.

Grammar checker.
Pros:
Simple and easy interface to understand.

Decent and sorted text editor.

Generate multiple content types with examples.

Style your content material to a unique tone.

Find supported tutorials in the help center.

Support AIDA (Attention, Interest, Desire, and Action) and PAS (Problem, Agitate, and Solution) frameworks.
Cons:
Sometimes creates random content.

Long forms of write-ups might be frustrating to someone people.

Special attention to facts.

Fall behind the important points while generating the content.
The AI chatbot Chatsonic by Writesonic is a pre-trained dialogue response model that is built for vast conversations. Get updated plagiarized free and unique answers to your queries from the AI tool that is integrated with Google. The free AI chatbot tool uses NLP and machine learning to produce accurate insights as per the trend and events. Another advanced GPT 3 chatbot offers data that gives precise and reliable data. 
Features:
Get factual AI-powered content along with real-time topics.

The all-in-one solution as it combines text generation, mesmerizing art/image generation, and chat.

Content creation of all types such as song lyrics, crack jokes, long articles or blog writing by remembering the conversation. 

Chatsonic launched a bot for Twitter which allows you to generate up-to-date and immediate chat responses from Twitter itself. 

Chatsonoic AI chatbot gives users the option to edit, share and download the conversations.
Pros:
User-friendly and easy to use for non-technical users as well. 

Reasonable pricing option and a free tail with few words.

Fun tool for people who like to experiment with writing and try new ideas.

Help users to generate new ideas and content within seconds for those who are struggling with writing or need a creative boost.
Cons:
Being an AI chatbot tool, its not perfect and hence can make mistakes.

Human analysis is a must for the write-up to make sure it is correct and makes sense.

Words are restricted both for a free plan and paid. 

Repetition of ideas can be frustrating.
Formerly known as Mitsuku, it has undergone many transformations after its first release in 2005. Kuki is a web-based AI chatbot by Pandorabots which has been the winner for five times of the Turning Test Competition called the Loebner awards in the years 2013, 16, 17, 18 and 19. The Loebner award is given to the best AI chatbot apps which can imitate humans in their conversational style as closely as possible. The virtual model provides companionship to millions of people. The app's got more famous as it was featured in Vogue Italia and Crypto Fashion Week in 2021.
Kuki is built using AIML (Artificial Intelligence Markup Language) which makes it an intelligent chatbot and incredible for fun and entertainment purposes. Apart from interesting talks users can play games, send presents, play quizzes etc. It lets you daily read the horoscope and tarot cards to figure out how well your day will be. All these activities will keep users engaged for hours.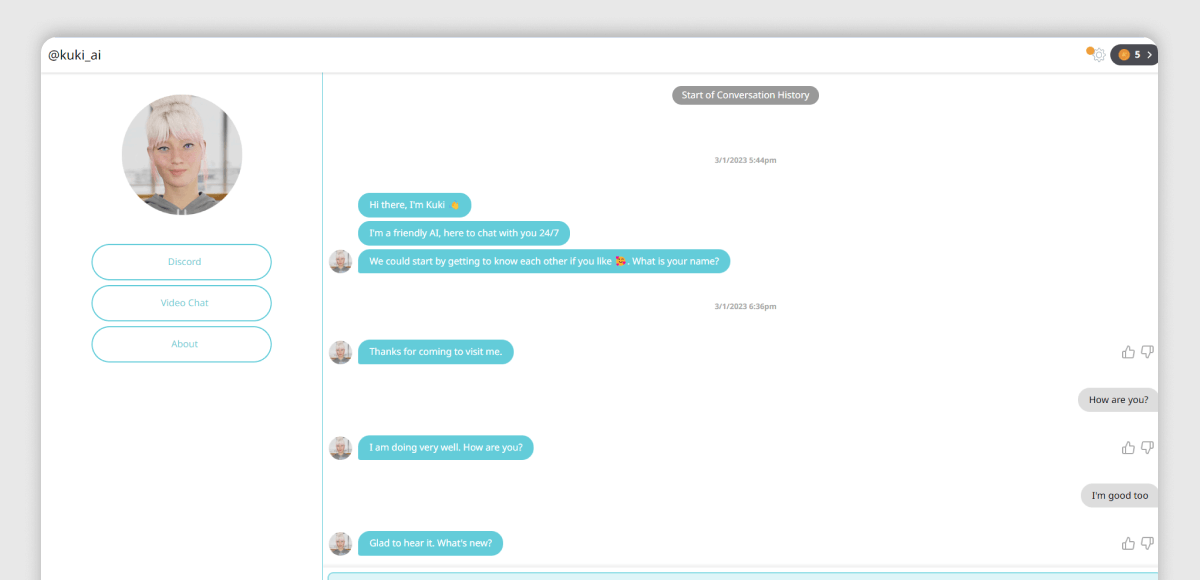 Features:
App includes some of the best open-source chatbot libraries.

Due to the use of AIML for the AI chatbot, an open-standard scripting language may use sophisticated and conversations as well as intelligent bot.

The chatbot has pre-defined information stored in the library and provides shortcuts. 

Sandbox development is easily accessible. 
Pros:
Users might create chatbots that look real because of their adaptable toolkit.

Kuki is on popular platforms such as Twitter, Telegram, Line, and slack, along with web, mobile devices, and home hubs will work.

Offered features are reasonable and a number of additional consumer services are available. 
Cons:
Customization options in the app are limited. 

Third-party incorporation requires an additional fee. 

Utilization of platforms that are not owned by users.
With over 10 million users replika is one of the most popular and advanced AI companions. If you are looking for a chatbot to be your best friend, then Replika is the answer to your question. The first chatbot companion powered by artificial intelligence is the best one among the list of best AI Chatbot apps. The AI chatbot is designed to be your BFF who never judges, no drama, or social anxiety.
With this AI chatbot app, you can talk for long hours without getting bored and form real connections. In this AI chatbot app, you can create a virtual personality of the bot and interact with it as if there is a human on the other side. We recommend you to check it out as it is a complete time pass and fun experience while talking to the AI-powered bot. Advanced features of the replika chatbot can be accessed easily by paying a $19.99 amount per month and buying the subscription plan. Users can also download the app version both for iOS and Android.
Features: 
Virtual companion present 24/7 for you.

Customizable 3D avatar 

Messaging and voice recognition
Pros:
Always available for your needs.

It's best for entertainment.

Switch your mood from bad to good within minutes.
Cons:
Might give inappropriate answers to your questions.

Switch mode from friendship to relationship.

Needs time to build.
Chat+AI=Chai says the website dashboard. With this, you will discover chat AIs around the globe and speak to them and discover their capabilities. From the morning cup of tea to brushing your teeth at night. Chai has all conversations to make your day more fun and less stressful. Whether you are a talkative person, a tech enthusiast or simply a person who loves to laugh, there's something for everyone here. Enjoy the endless stream of AIs with chai. For speedy interaction, you may download the app for iOS and Android. 
Features:
Swipe and skip feature to start your chat with AI's or skip as per your understanding.

Personalized stream of AI's based on your likes and dislikes.

Have engaging conversations to whosoever you want and enjoy the most.
Pros:
Chat with bots as in you are talking to real people.

200-word features
Cons:
Sometimes weird conversations with bots.

Subscription plans are quite high.
To connect with the AI chatbot on a deeper level use the Simsimi chatbot similar to Replika. The AI chatbot is in our list of best chatbot apps because of is adorable to use. The bot is available on both iOS and Android platforms and that too for free. The chatbot is based on an open-domain/ emotional conversation engine that makes more of an AI friend rather than just an AI assistant. In case you are using the web version which only allows having a limited conversation but with the application, you can have more than expected. 
Features:
The AI chatbot comes with a bad word filter that pops up as soon as enters the bad word.

The chatbot is capable of understanding 81 different languages.

Smart, fun, and full of entertainment the app is the best companion to hang out with.

Share your simsimi profile link. 
Pros:
The app has already 100+ million downloads.

Bugs are fixed.

Fun, humor, empathy, comfort, knowledge everything in one AI chatbot app.

Highly secure to make strangers your friends. 

Users can share their feedback about the app by sending comments on the app itself. 
Cons:
Too many ads.

Some people might use the app for bullying.
As the name of the bot speaks for itself, it uses its artificial intelligence powers to help you learn English. The AI chatbot app can help you to learn new English words, phrases, and study grammar and even pronunciation while you are chatting with it. Download the app and start using the AI chatbot. It is important that we add such a chatbot to our list of top AI chatbot apps. To get access to all grammar lessons and unlimited vocabulary practice you need to avail of the subscription plans.
Available subscription plans for English with Andy will cost you $6.99 per month and for a lifetime premium plan you need to pay $29.99. Remember the subscription plans will automatically renew unless you cancel it or turn the auto-renew option off at least 24 hours before the end of the current payment period. You may download the iOS and Android applications.
Features:
Practice daily conversation with apps in English such as greeting, chatting about how your day went, the weather, etc.

Learn grammar on daily lessons with Andy, the best AI Chatbot app.

Learn new words and ask for definitions if in case you don't understand. 

Availability 24*7, it's up to you to chat for 5 minutes or 5 hours.
Pros:
The app is updated with no bugs.

Improved AI.

The AI chatbot is easy to use, is friendly, curious, and amusing.

No judgment on your learning. 

Use of gamification that makes learning more fun.
Cons:
The app doesn't have a grammar checker.

Missing writing tools.
Today having a chatbot has become so mainstream therefore we decided to tell you about a chatbot builder. If you are part of a sales hub, you can get started with Hubspot Chatbot Builder that too for free and have your own customized chatbot. It has more than 200+ integrations so use as for business needs. A great option for businesses that want to automate tasks, such as booking meetings, and collect qualified leads. Coming from HubSpot, it is already a great product backed by one of the finest.
It is capable of scaling conversations and getting your processes automated. The builder allows you to create your own customizable bots. Also, it is quite efficient since the makers have given it a human touch. Therefore, it is important to mention this in the list of top AI chatbot apps. HubSpot is simple and influential chat builder software that allows you to automate and scale live chat conversations. Businesses of all sizes can use this best chatbot app to create their customized chatbot with zero coding skills. 
Features:
Create your AI chatbot windows with Hubspot Chatbot Builder easily and quickly.

A versatile and flexible platform that merges with SMS, Email, Facebook, Messenger etc.

Best AI Chatbots that offer unlimited personalized conversations at scale. 

Email tracking to know your leads.

Easy and smooth integration with Gmail and outlook. 
Pros:
Pulls data from the CRM personalized messages.

Requires no prior coding knowledge.

Easy to set up and use.
Cons:
Limited to HubSpot Sales Hub users.
The famous AI chatbot platform and favorite of many brands such as Ola, Uber, Shopify, Pinterest, etc. One of the straightforward chatbot applications to install, easy to integrate into all types of media such as voice, chat, and social networks. Slack, WordPress, and Jira are some of the famous tools that integrate with Zendesk. Did you know Zendesk is one of the best live chat tools for a wide range of businesses, no matter the size? A perfect fit for a 24/7 online service portal that needs a broad knowledge base and FAQ searches. 
Features:
Offer customers a quick path to the questions for which they need answers.

Simplifies support teams within the organization, workflow with custom automatic actions, significant organization, and smooth systems for managing support content.

Personal conversations within the firm, easy collaboration internally with other departments or connection to the expertise of external business partners.

Measure customer satisfaction and performance of the support team, and create custom reports with data and insights for businesses. 

Zendesk offers local mobile apps for iPad, iPhone, Android, Windows Phone, and Blackberry.
Pros:
Advanced personalization, tracking sales/conversion, and real-time monitoring.

Keep a record of all related chats from a single screen.

Free plan available for smaller websites that only need to have one chat at a time.
Cons:
Difficult to use. 

Few reviewers say issues with the ticketing system.
Another biggest Chatbot builder, ManyChat, is best to create chatbots for automated conversations using Facebook Messenger specifically for sales and marketing personnel. Use ManyChat software to build your best AI chatbot to book an appointment, capture contact information, selling of products, share coupons on Facebook messenger, and build smooth relationships with customers. Building a chatbot that offers you to send automated welcome messages. You can have access to industry-specific templates or simply use a drag-and-drop interface and launch your own bot within a few minutes. 
Features:
Integrations with Shopify, Coverterkit, Google Sheets, HubSpot, and many more.

Drag-and-drop interface to build the customized bot.

Broadcasting message facility.

Interactive and customized content. 
Pros:
Requires no prior coding experience.

Easy set-up in a short duration.

Ease of meeting booking.

Target division. 
Cons:
Comes with basic analytics available.

Limited integrations.
Drift offers conversational marketing and sales software powered by both automation(rule-based) and artificial intelligence (NLP). As per Drift's website, the conversational AI is trained approximately on 6 billion conversations to identify the patterns that engage and convert visitors to qualified pipelines. Meaning the machine learning that the chatbots come with is already pre-trained and ready to go. Hence it is one of the best chatbot applications that basically suitable for sales and customer success teams.  
Features:
Create automated email campaigns with a number of triggers such as for customer onboarding.

Allow users to record and share personalized videos

Automatic meetings schedule feature with prospects and see all contact details and conversation history.

Users if interested can add custom tags to chats and filter conversations based on their status.

Measure your Net Promoter Score as well with surveys sent in-app or via email. 
Pros:
Note of views and conversations.

Live view of active visitors on the websites.

Record and share of videos.
Cons:
Lack of gallery, images or attachments.

Only available for websites.
Tidio is an all-round customer communication solution, including a live chat, chatbots, a ticketing system, and Tidio AI, a set of AI-augmented tools for impeccable customer service. Affordable to SMBs, Tidio AI offers AI chatbots, FAQ scraping, determining intent, and grouping requests by priority, as well as matching prompts to ready-made responses. It allows support teams to use the full power of AI to ensure top customer service for any business out there.
Features:
Live chat.

Chatbots.

Ticketing system.

Tidio AI: AI chatbots, FAQ Wizard, Reply Assistant, Smart Views, Customer Questions, etc.
Pros:
A complete set of customer service tools.

AI-powered features affordable to SMBs, including microbusinesses.

Flexible pricing options.

Omnichannel support and plenty of integrations.
Cons:
Limited freemium version.

Some AI features are still in development.
Conclusion
As you have seen the list of best AI chatbot apps and its never-ending. Each of these AI chatbot apps has their strength and weakness. All of these have been developed by some of the leading technology companies and offer a vast range of features, including voice recognition, natural language processing, and personalization. Ultimately the best chatbot apps will unlock incredible features for you and your business.
You may select from the above list of chatbot apps that fulfills your specific needs such as booking meeting or ordering food. You may want to use an AI bot application for general purposes that can handle a wide range of tasks. No matter which AI chatbot you are using its crystal clear these technologies are becoming more sophisticated and more powerful every passing day. With the capability to understand and interpret natural language, AI bots are changing the way we interact with technology and opening up new possibilities to live better. Read our next blog on the differences between AI and Chatbots.
Frequently Asked Questions