Wellcure
Industry
Health & Fitness
Services
Conceptualization, Design, Development, and Deployment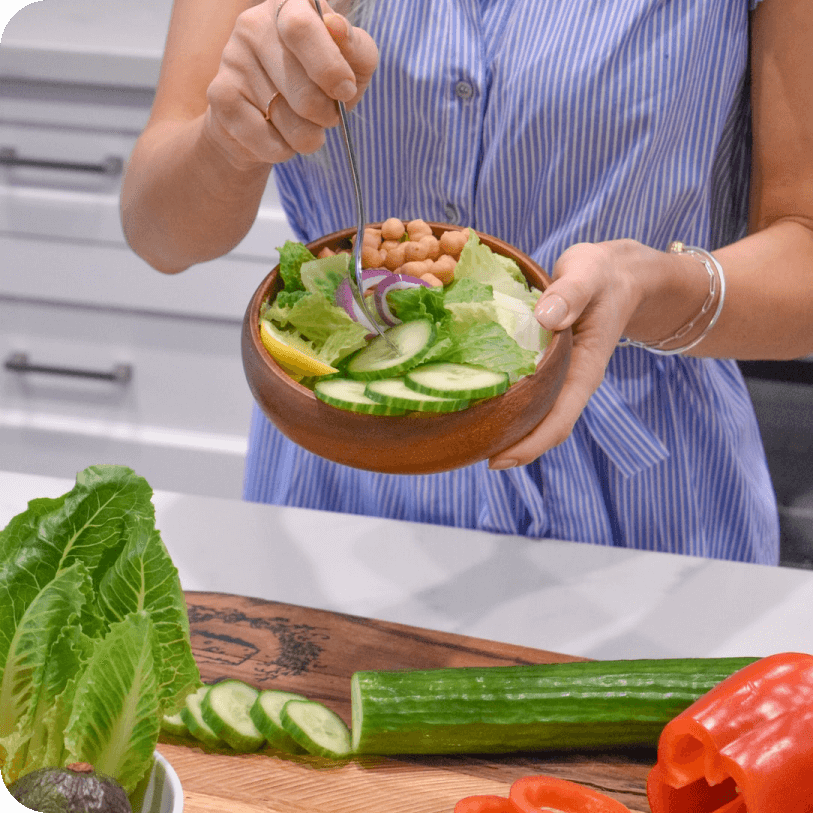 About
The natural healing force in each one of us is the greatest force in getting well" - Hippocrates. Wellcure founding team sincerely believed in this fact and are great followers of natural health care principles. Wellcure is natural Health Platform as a website, iOS App, Android App. It has Healthcare Q&A, Healthy recipes, Forums, Life stories, Events, and experts' articles on body wisdom. Wellcure aspires to become India's largest natural health community.
The App Opportunity & Solution
The opportunity was to create a web platform first and then integrate the same with native iOS and Android apps which users can use seamlessly across any platform. Like Quora, you can start answering a question on wellcure web and finish on wellcure iOS or Android app and similarly post an event, or book an event. Can post a recipe or read or watch one. The admin panel is amazingly powerful in order to manage the content and users and functionality across 3 platforms. There are multiple admins to manage the portal and they can update content, manager users, send notifications, see transactions, post events, change content sequences, moderate comments and more.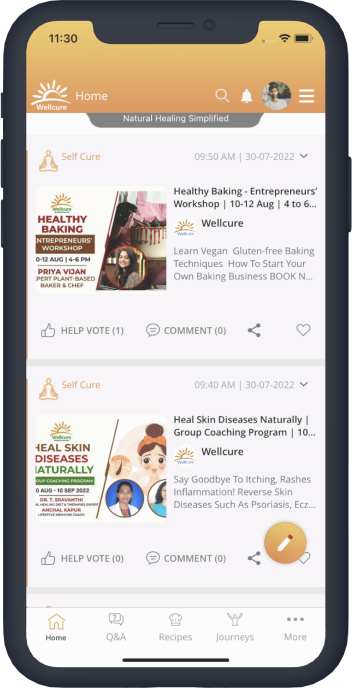 App Features
Wellcure App and site is divided into following major sections
Body Wisdom: Find well-researched articles on how our body heals itself, building the body's self-defence mechanism and understanding of all aspects of health. There are articles on developing healthy habits, sleep and a healthier lifestyle.
Health Q&A: In this section, anyone can ask any health-related questions and get responses from our Wellness experts and real-life experienced people. You can vote up or down an answer or comment for further communication. Take help, render help - as much as you can.
Healthy Recipes: Get endless whole plant-based healthy food recipes and simple home remedies for general health betterment. A broad range of healthy dishes includes salads, curries, desserts, snacks and fruit-based dishes, which are tasty and easy to make.
Health Journeys: Read inspiring health journeys of people from all walks of life who treated their health issues using natural life principles. Stories on how someone treated their thyroid, how someone managed diabetes, skin conditions, how someone managed their hair fall, or how people avoided surgeries, health journey has everything and more. If you have any great story to tell, then this is your stage.
Some of the most talked about topics (but not limited to) on Wellcure Body wisdom -
Alkaline or acidic foods
Healthy hair
Acid reflux remedies
Fat loss diets
Dealing with Menopause
Understanding food combinations
Circadian rhythm of the body
Relieve cervical spondylitis
Blood pressure management
Beating the heat naturally
Some famous Healthy Recipes -
Golgappa pani recipe.
Jackfruit softy
Dairy free golden turmeric milk.
Avocado face mask.
Muskmelon seeds curd.
Chole and Avocado Salad
Dairy free Kesar kulfi ice-cream.
Recipe for dandruff free scalp.
Some Famous Questions asked and their answers -
Remedy for Grey Hair? Premature greying of hairs occur when the person is deficient of Vitamin B-6, B-12, D, and E too. Stress can also be the reason, although maintaining a healthy lifestyle can counter the problem.
Cure for Sore Throat? Apple Cider Vinegar, Gargling with Salt Water, Honey, and Cinnamon are some of the most common home remedies for Sore throat.
Do's and Don'ts after Thyroid Surgery? Eight hours of Sleep, Eat raw fruits and veggies, Exercise, Spend time in the natural Sunlight, and most importantly stay happy.
Lifestyle changes for both Type 1 and Type 2 Diabetes? Yoga, Changing food habits, Meditation, Stay Hydrated, Proper Bowel Movement, and rest are some of the significant changes you need.
How to Gain Weight? Taking a diet that is both rich in carbohydrates and protein. Some of the foods that can be added are avocado, rice, coconut, pumpkin, and sunflower seeds.
Some Inspiring Health Journeys -
Liberation from Asthma
Incurable Skin Allergy
Diabetes Reversal and Cholesterol Control
Severe Gastric Issues
Cysts & Fibroids
Overcoming Depression & Skin Issues
Freedom from Hormone Replacement Therapy
#ClientSpeaks
Learn more about our processes from our clients.
Joshua Kozak
CEO and Founder of HASfit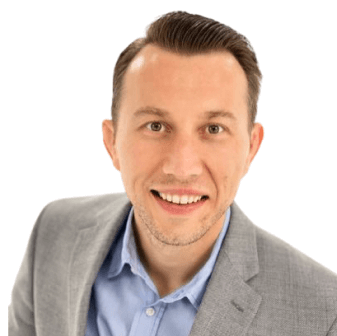 Agicent makes App Development process painless with their industry knowledge, attention to detail and a professional step-by-step development system.
Joshua Kozak
CEO and Founder of HASfit
Tools & technologies used for Wellcure
We always deploy and use the world's most powerful technology platforms and software for developing and launching Android apps. This is the reason that our Android app development services are always one step ahead of our competitors, ensuring stunning success for our clients.
Language

Java

Kotlin
Frameworks
Android SDK

Google Fit SDK

Google Assistant SDK

Open GL
Database

Firestore

SQLite

Realm
Backend

Jest

Enzyme

Test IO

Appium
Schedule a Discovery Session with our Team
Sudeep Bhatnagar
Co-founder & Director of Business

Talk to our experts who have been running successful Digital Product Development (Apps, Web Apps), Offshore Team Operations, and Hardcore Software Development Campaigns. During the discovery session, we'll explore the opportunities and Scope of the work and provide you an expert consulting on the right options to achieve the outcomes.
Be it a new App Development project, or creation of an offshore developers team, or digitalization of your existing market offerings - You'll get the best advise and service and pricing. We are excited to speak to you!
Book a Call