Full Stack Development Company
Get a fully managed full stack development team at just $2900 monthly working on React.js, Vue, Redux, Node.js, Mongo and more. Add or remove developers as per the needs, get your product development kick started!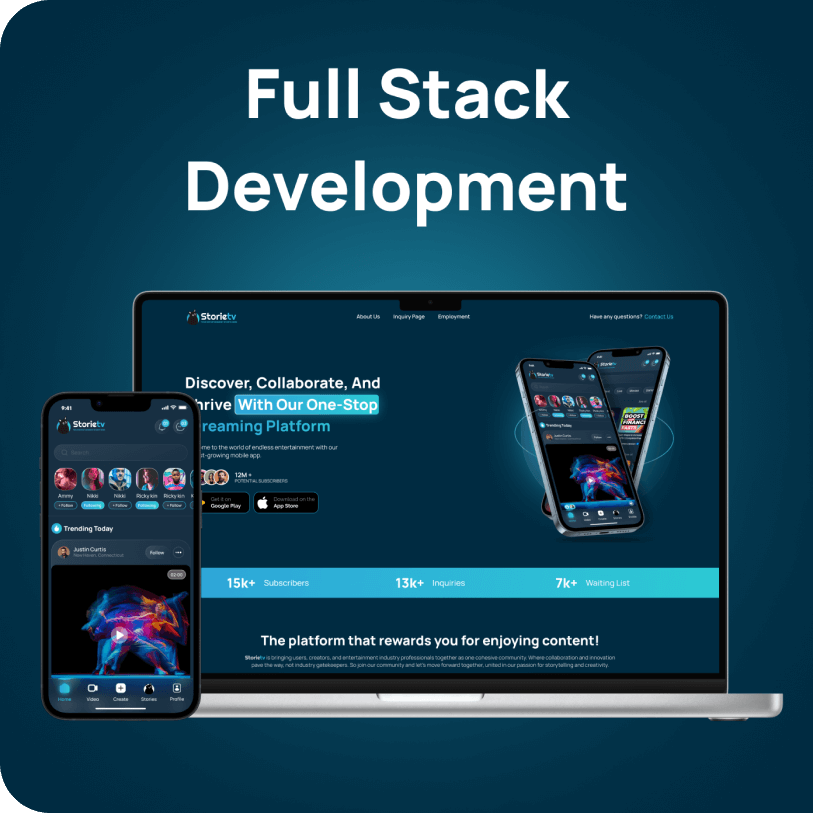 Recognised by the best Top mobile app development company

Top mobile app developers in India

Visit our profile at AppFutura

Press Released Covered by Daily Mail

Best App Development Companies for Startups 2021


Reviewed 5 Stars on Venturepact

Top Mobile App Development Company
Trusted by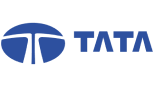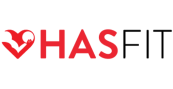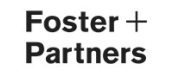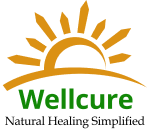 Full Stack Development Services With Agicent
Unlock the power of Full Stack Development tailored exclusively for startups with our managed teams. For just $2900 per month, you'll have a dedicated Full Stack Developer (full-time), along with fractional Project Management, Design, and Testing expertise. This team is your ideal launchpad for product development, and as you grow, you can effortlessly expand your team.
Our developers and teams adopt a holistic product development approach, going beyond just coding to crafting exceptional products. With a focus on user experience, convenience, and scalability, we offer expertise in UI/UX design, rigorous testing, scalability planning, and architectural excellence. Whether you engage us for a single Full Stack Dev Team or multiple, you'll benefit from a full spectrum of skills, ensuring your project's success.
To discover more about this opportunity, schedule a call with us from here.
Discuss your goals with us
Here are some of our prominent Full Stack app releases, with their respective App Development Costs
We are the experts of digital and mobility transformation, using codes, design, and lots of passion and innovation. Find out some incredible success stories of our iOS app development services that created history.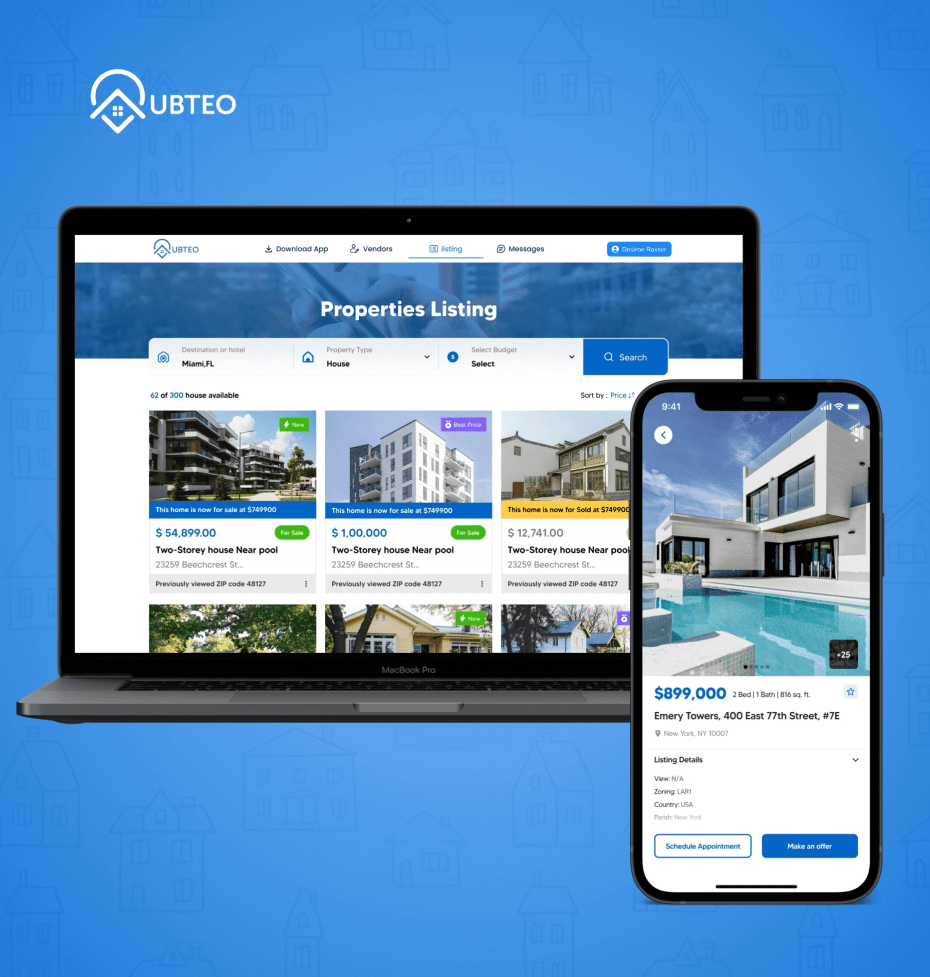 Ubteo
Ubteo Real Estate Tech Platform - Full Stack Development and Mobile Development
Ubteo is a real estate tech platform that provides a suite of tools and services to buyers, sellers, appraisers, and vendors and more. The platform is powered by a full-stack web product built with React, Vue, Redux, Node.js, and AWS.
Ubteo project took a Full stack Development Team (with 3 full stack developers + Designers + Testers + Project Manager), A mobile app team (2 App developers) and other side skills. The team delivered the platform in 9 months and now it is in continuous development and deployment. You can know more about Ubteo at Ubteo Real Estate Tech.
Approx Development Cost: $ 9000 Monthly for the retainer team.

StorieTV
StorieTV AI OTT Platform - Full Stack Development and Mobile Development
An AI laden new generation Video Steaming OTT Platform is about to be launched named as StorieTV. Storietv is bringing users, creators, and entertainment industry professionals together as one cohesive community. Where collaboration and innovation pave the way, not industry gatekeepers. This is a unique platform where not only creators but also consumers get paid for watching the content.
StorieTV project has an ongoing Full Stack Development Team (2 full stack developers + 1 AI ML Developer + Designers + Testers + Project Manager), and mobile app team (2 App developers) and other side skills. We are using technologies like MERN (Reactjs, MongoDB, ExpressJS, Node.js) and React native for web and mobile platforms. The solution is hosted on AWS. Click here to know more about StorieTV OTT Platform.
Approx Development Cost: $ 12000 Monthly for the retainer team.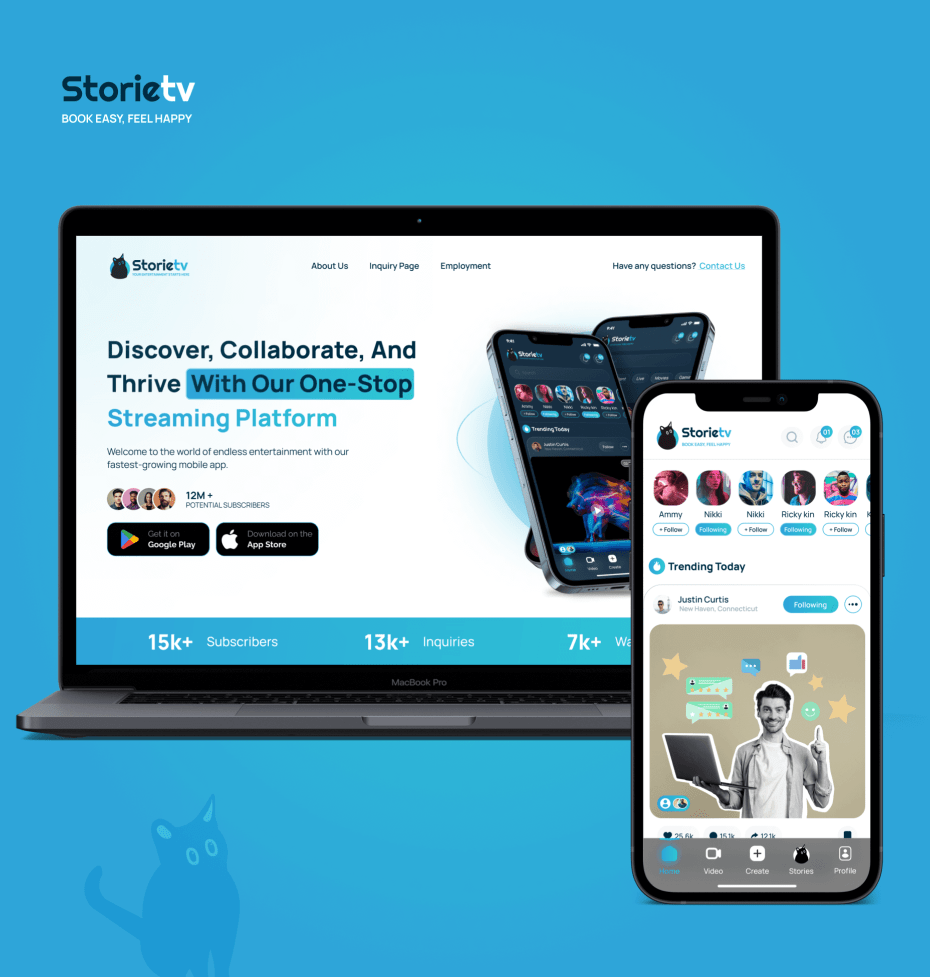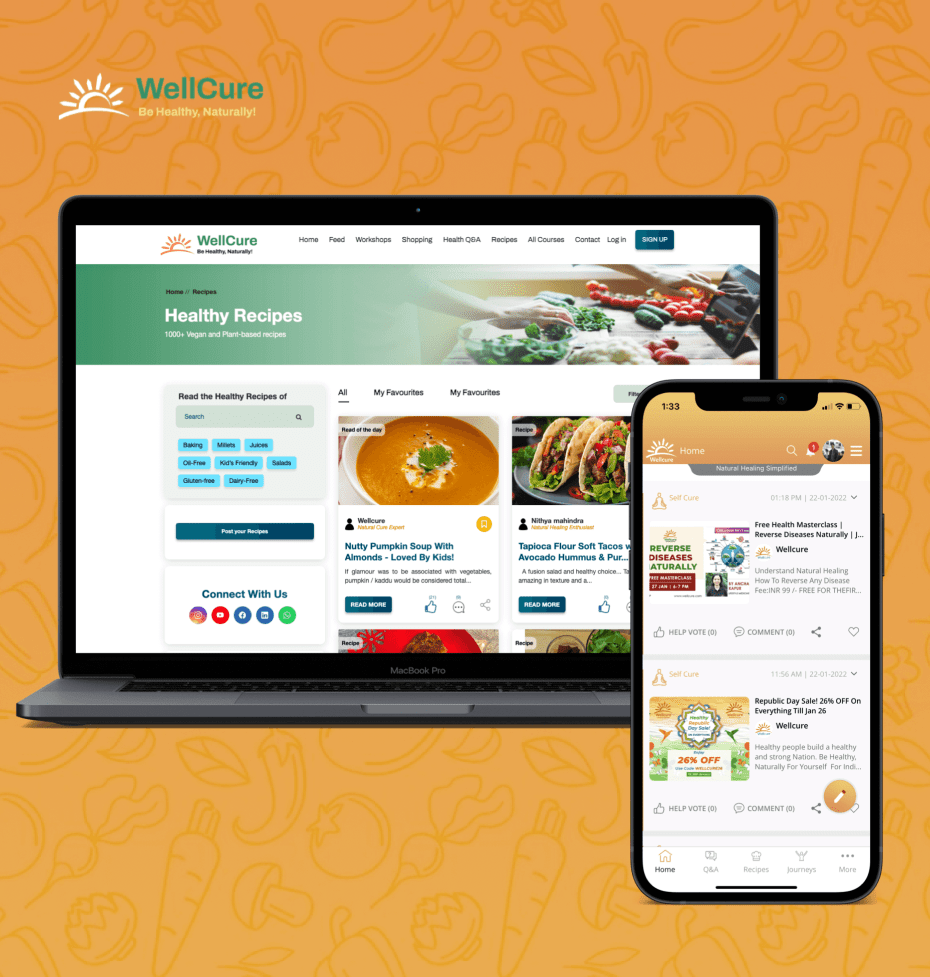 Wellcure
Wellcure Natural Healthcare remedies Platform – Full Stack Development + Mobile App Development
A full fledged natural healthcare remedy platform that includes a web App, mobile apps, admin panel, analytics, backend algorithms, payment processing and much more. You've Q&A feature like Quora where people can ask questions, give answers, vote up and down the answers. There is a feature where users can upload their own recipes with videos and so as the admin, there is gamification where users earn more points and badges when they contribute more, buy tickets for and attend workshops, buy and avail courses online and on top of everything – the solution is working bug free for more than 3 years with minimum maintenance. We call it as one of our finest jobs back in the day. Click here to know more about Wellcure.
Approx Development Cost: $ 50,000

Full Stack Development Team Rate Plans
Here is the typical pricing structure for full stack development team based on their experience and skill levels. Additionally, we can tailor a customized On-Demand Development Team and adjust the monthly rate to align with your specific requirements.
One full stack developer team
Monthly 200 hours of work
1 Dedicated Full stack Developer
1 Dedicated Project Coordinator
Shared UI/UX Designer
Need basis Tester
Fully Managed Team
Good for most MVP projects just starting or maintenance.
Two Full stack developer team
Monthly 400 hours of work
2 Dedicated Full stack Developers
1 Dedicated Project Manager
Shared UI/UX Designer
Need basis Tester
Shared Tech Lead and DevOps
Good for bigger MVPs or Ongoing Developments.
Three full stack developer team
Monthly 600 hours of work
3 Dedicated Full stack Developers
1 Dedicated Project Manager
Shared UI/UX Designer
Full Time Tester
Shared Tech Lead and DevOps
Good for mature development process.
#ClientSpeaks
Learn more about our processes from our clients.
Ali Farhat
CEO, Ubteo, Inc.
I've been working with Agicent for last 6 years on various projects including a Telemedicine App first and now Ubteo Real Estate Tech Platform. I've always found them having a great grip on the product and their tech team enables them to achieve every aspects of the product vision in a timely and quality manner. I recommend them to any tech startup any day.
Ali Farhat
CEO, Ubteo, Inc.
The Process of Full Stack Development Services by Agicent
Following is the process of Engagement for the Full Stack Development Team, which is designed in a way that it takes least manpower from the client's end and not just for the development but also for communication, project management, collaboration with the project stakeholders. Agicent is willing to take care of the whole process as a 360 degree service provider.
Also, we are flexible to modify and fine tune this process depending upon your needs and in the scenarios for example - where you already have a team working in different geography or also when you want us to deal with your customers and work according to their side of requirements and so on:
Dedicated Project Management
Agicent's Project Analyst and Manager (PM) will do the discovery sessions with the client team and gather the requirements in the right format and normalize them as "ready to be achieved" scope of the work for the development team.
Our Analyst team will deep dive into the product feature and functional requirements as well as their implications on the end user's experience. We do a detailed deep level analysis on needs of the end user and their expectations out of the product and create a "Minimum Expectations Criteria".
Scope of Work Creation and Requirements Visualization
Agicent's PM collaborates with in-house designers to transform the collected requirements into clear wireframes and a Software Requirement Specification (SRS) and user stories.
These visual user stories or wireframes will provide a shared vision to the whole team and helps creating the high fidelity UI/UX designs and clickable prototypes.
High Fidelity UI/UX Designs and Clickable Prototypes
After studying the audience user group, as the next step our team creates high fidelity UI/UX design creatives depicting and simulating the flow of the product thoroughly.
We use tools like Figma that allows a real time collaboration across all the team members at both client and Agicent's ends.
Examples of Clickable Prototypes:
Making Quicker Sprints and Then Allocating Tasks Using Project Management Tools
Project Manager will bunch out the total scope of the work into two week sprints and enter the same on a Project Manager Tool.
Project Manager in agreement with the Customer will enter and prioritize the work in a Project Tracking tool like Jira or Trello that provides 100% visibility on the project's happenings to all the stake holders.
Agicent PM will assign the tasks around Coding, Design, Integration, Testing, Server setup etc to the allocated team members and give a proper delivery schedule and timelines to the clients, and will keep the mend's team apprised of the happenings.
Agicent team can use any project management tool that the client is familiar with, as we work across all such famous tools namely (but not limited to) – Jira, Trello, Notion, Linear and much more.
Communication & Collaboration
The customer can interact with any member of the team any time and they all are part of the daily standup and weekly meetings. However, Agicent PM will be the main communication contact for the client. The project Manager will be available from 6 AM EST to 3 PM EST everyday and can stretch if needed.
We use latest versions of the tools like Trello, Skype, Teams, Zoom for continuous collaboration and communication.
A hotline number and a whatsapp number is provided to the client for any urgent discussions beyond the regular communication protocol.
The team will work on the tasks provided by the PM which can (and not limited to):-
New feature development as ordered by the client.
Integration with various internal and third party APis or APIs created by the backend team if needed.
Research and implementation of best possible solutions using custom code or available open source or third-party libraries for the business benefit.
Creating any front end or backend piece of the project whenever a need arises.
Developers will do Unit testing before releasing an interim build to Testers, testers will do UAT and send final build to the client.
Testers can be included in the process on need basis during lean development time and can be made dedicated when the development reaches at a mature stage.
Client team is always provided with the test build releases to do their side of the UAT (user acceptance testing).
Continuous Development, Testing, Integration and Deployment
Our Tech Architects setup a CI/CD continuous Integration and delivery pipeline in the agile mode projects.
Our Team will also do the deployment, going live and management of both staging and live instances. We are well versed with AWS, Azure, Google cloud and many other cloud infrastructures.
Resource Management and Timesheets
Agicent project manager will manage all the resources involved in the project and keep recording of the hours associated with each and every task done for the project on every day basis.
Customer will have a real time access to such time sheets and can sign off on daily, weekly or monthly basis.
Role of Professionals in Our Full Stack Development Team
Lead Full Stack Developer (Full Stack or Backend or Front End or Just App Dev)
Coding, Integration with captive or third party APis.
Unit Testing, Code version control, code login.
Build compilation for test environment and production environment alike.
Research on finding solutions and implementing those to meet the business requirements.
Keeping the progress record and report regularly using a project management tool like Trello or jira.
Coordinate with the Business analyst and the client.
Take regular backup and security check on the software being worked upon.
Creating and keeping document for the project.
Role of the Business Analyst/ Project Manager
Conducting discovery sessions, requirement gathering, resource management and coordination.
Account management and to act as the internal project owner @Agicent.
To get the right inputs from the clients, to leverage Agicent's team for any troubleshooting or help for the assigned developer, to arrange for testing environment, use company's infrastructure for real time on device testing.
To suggest right approach for the development process, to get new requirements from the client if a need arises for more developers or other profiles in the process.
Role of the UI/UX Designer
Be a part of the requirement gathering process and converting those into wireframes and high-fidelity designs.
Doing target audience study and competition products study from the point of view of the UI and UX designs.
Collaboration with Project Manager and client during any moment of the project.
Need basis design delivery in a timely manner.
Brings expertise in latest design tools like Figma, Adobe tools and also animation and video tools whenever needed.
Role of the Tech Lead
Helping in creating the Tech Architecture of the product.
To act as a Tech guide and knowledge bank for the project team.
To help setting up CI/CD pipelines and production uploads.
To help setting up version control and repository systems.
Brings minimum 8 years of experience in design, development, scaling of complex mobile and web applications as well backend algorithm and AI project experience.
Role of the Software Tester
To be a part of requirement gathering process and then for the continuous development.
Creation, management, updating and execution of test cases and communicating the same to the team.
To maintain test cases, bug sheets and results.
Automation testing when needed.
Best Practices Followed by Agicent Full Stack Development Company
Product Development Approach and Not Just Coding
As described in the Full Stack Development Process above, we put a great emphasize on taking a "Product Development Approach" and not just "Project development". This entails (but not limited to) – doing deep analysis of end user's expectations out of the product and the competition, creating a quickly scalable architecture, creating quick MVPs by finding and using ready to use libraries and frameworks (that can be easily replaced or upgraded in the future scaling), integration with the marketing SDK and much more. Overall, since we've been a part of many success stories where we first created MVPs and then had to quickly ramp those up because of the opportunity we do take care of all such "future demands" that a startup can have in the early stage itself.
Design Led Engineering
Gone are the days when software were being made for functionality only with bare bone designs and experience. In today's day and age, User Experience and also Interface are the key differentiators between the success and failure of the product. Therefore, we try to create visualization of the product before making it as thoroughly as we can. This includes studying target audience, their behavior on similar products, competition offerings and much more. A Design-led Engineering process also makes the development faster as it provides a shared-vision of the product across the Development team as well as other stack holders.
Comprehensive Full Stack Expertise
At Agicent, our full stack development teams boast extensive expertise in a diverse range of technologies, including React, Vue, Redux, Node.js, and more. This breadth of knowledge empowers us to provide holistic solutions that encompass both front-end and back-end development. This comprehensive approach ensures that your project benefits from well-rounded, end-to-end development, delivering robust and seamless user experiences.
Continuous Integration and Continuous Delivery (CI/CD)
We implement CI/CD pipelines as a core practice, automating and optimizing the software development and deployment lifecycle. This systematic approach facilitates rapid development cycles, early detection of issues, and a consistent delivery of high-quality software. By leveraging CI/CD, we enable our clients to stay agile, respond swiftly to changes, and maintain the highest standards of code quality and project efficiency.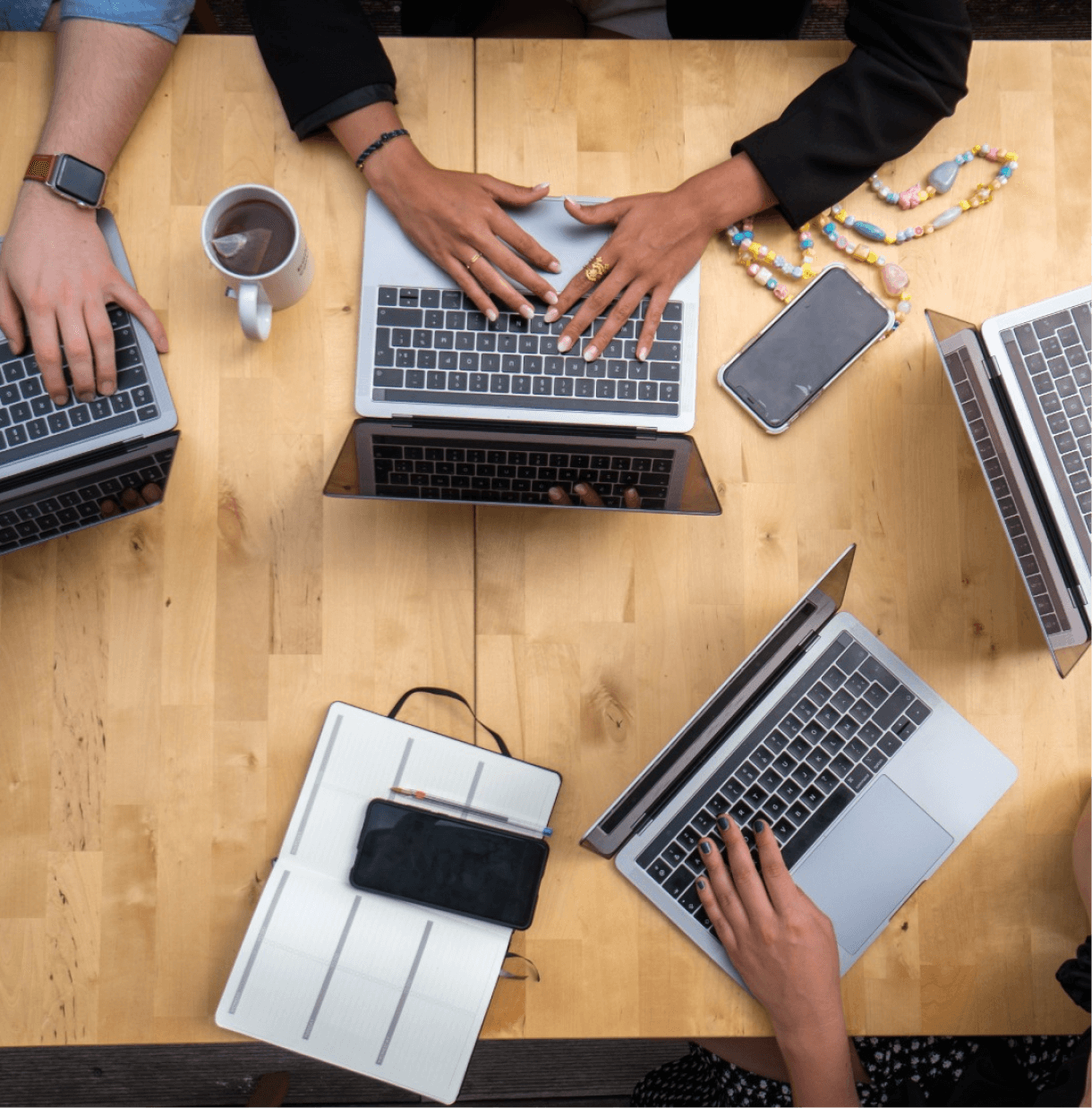 DevOps Integration
Agicent seamlessly integrates DevOps principles into our development process, fostering collaboration between development and IT operations. This synergy results in faster deployments, improved reliability, and enhanced scalability. By breaking down silos and automating processes, we ensure that your applications are not only feature-rich but also highly available and scalable, meeting your evolving business needs effectively.
Dedicated Project Management
When you partner with Agicent and hire a full stack developer, you gain the expertise of a dedicated Project Manager. This seasoned professional plays a pivotal role in facilitating effective communication, meticulous project planning, and the timely delivery of project milestones. With our Project Managers, you can rest assured that your project is on track, aligned with your vision, and delivered with the utmost efficiency.
Front-End Design
Our full stack development teams include skilled front-end designers who prioritize creating visually appealing and user-friendly interfaces. This commitment ensures that your application not only functions optimally but also provides an engaging and intuitive user experience. We blend technical proficiency with creative design to deliver front-end solutions that captivate users and elevate your brand's digital presence.
Testing and Quality Assurance
We consider thorough testing a non-negotiable component of our development process. Our dedicated testers rigorously assess each application to identify and rectify any issues, ensuring a bug-free, reliable, and high-performance product. This commitment to quality assurance guarantees that your software not only meets but exceeds your expectations, delivering a superior end product to your users.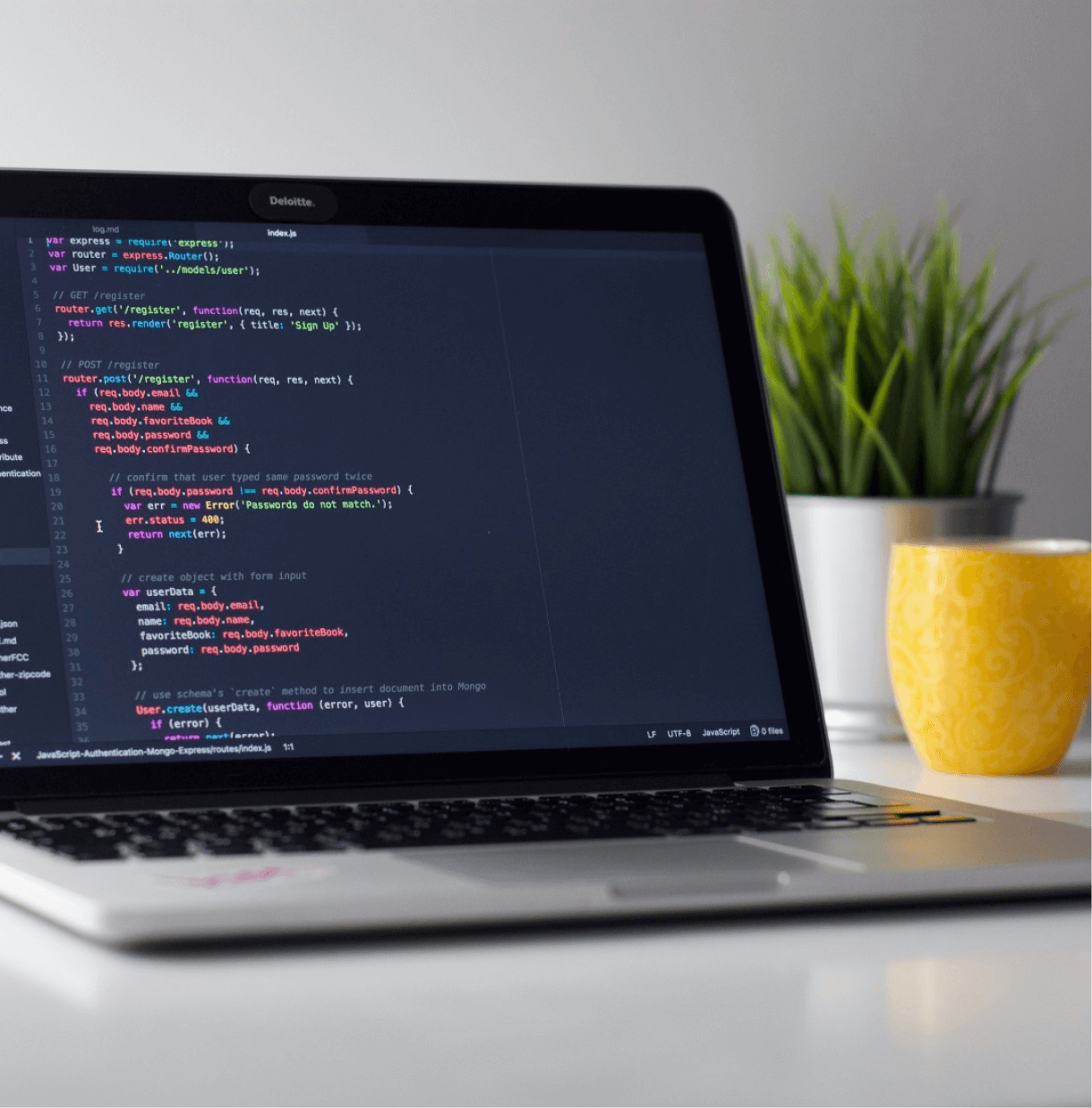 Technical Architecture
For projects with complex technical requirements, we provide experienced Tech Architects who design scalable and robust systems. These architects create solutions that are not only resilient but also future-proof, adaptable to evolving business needs. By focusing on sound technical architecture, we ensure that your application stands the test of time, delivering long-term value and performance.
Customized Development Plans
Agicent offers flexible monthly development plans tailored to your project's unique requirements. Depending on the complexity and scope of your project, you can select a plan that includes the necessary side skills and resources. This personalized approach allows you to optimize your project's efficiency and cost-effectiveness, ensuring that you receive the specific expertise needed to achieve your project objectives effectively and efficiently.
Common Mistakes to Avoid in Full Stack Development Services
Avoiding common mistakes is crucial in Full Stack Development Services to ensure a smooth and successful project. Here are some key pitfalls to steer clear of:
Inadequate planning leads to scope creep, missed deadlines, and budget overruns.
Neglecting user experience results in user dissatisfaction and reduced usage.
Failing to test thoroughly leads to undiscovered bugs and performance issues.
Ignoring security invites vulnerabilities that can compromise data and user trust.
Neglecting coding best practices results in messy and hard-to-maintain code.
Overlooking scalability hinders growth potential.
Comprehensive documentation aids in code understanding and maintenance.
Falling behind in tech trends can make applications outdated.
Poor load balancing causes server overload and downtime during traffic spikes.
Collaboration between teams is essential for integration success.
Mobile optimization extends app reach and enhances user experience.
Monitoring and logging are critical for issue identification and performance optimization.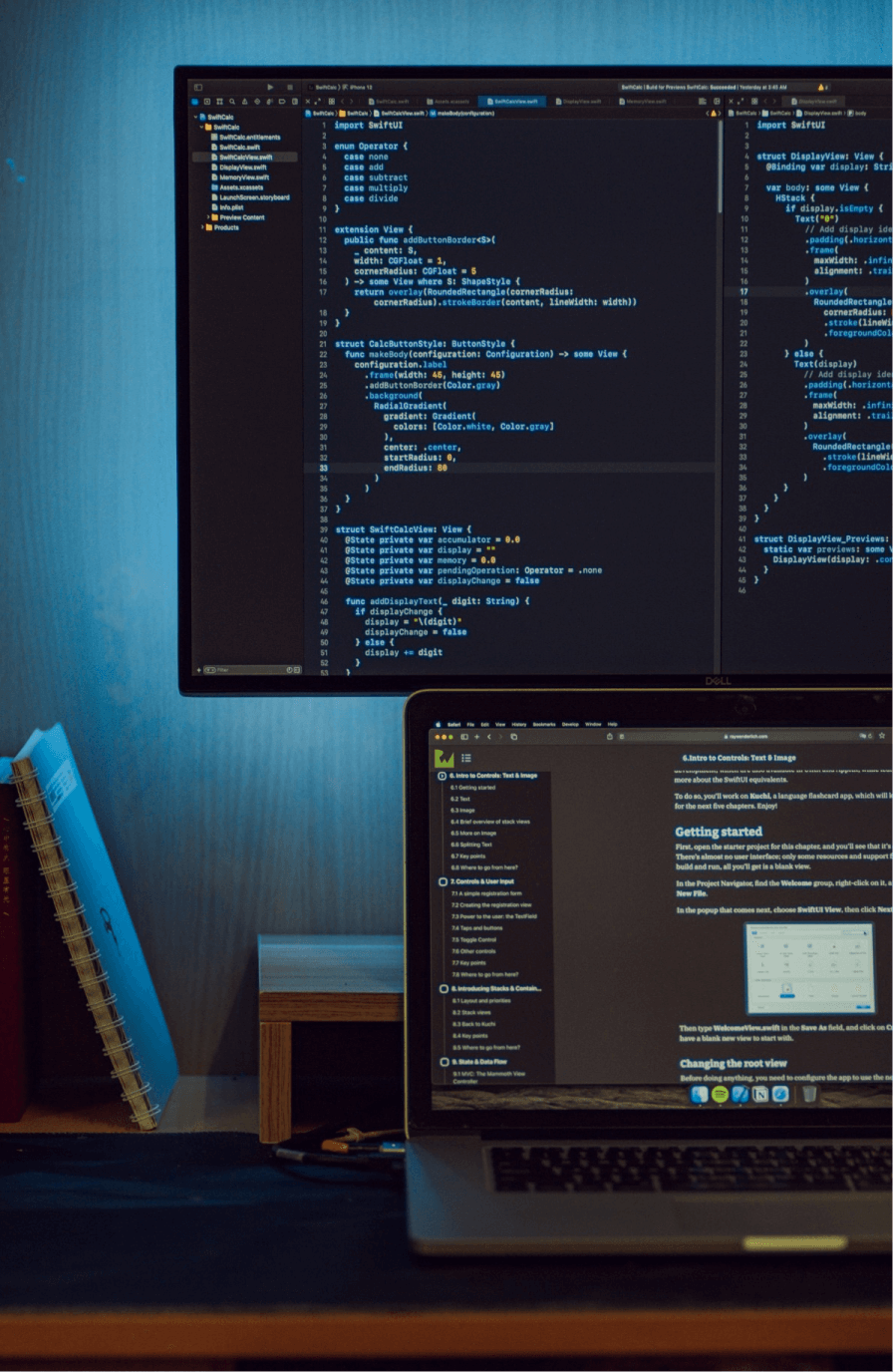 Limitation of Full Stack Development
Complex Skill Set

Full stack development demands proficiency in both front-end and back-end technologies, which can be challenging for individuals or teams to master thoroughly in a short span of time. That is why while a good engineer with 2 years of experience can be really good in mobile app development, in case of full stack you need atleast 4 years of thorough experience on both front and backend of the coding process and also understanding the architecture and devops too.

Time-Intensive

You can roll out a lean MVP in few months by using just one full stack developer but if it's a bigger project with multiple user types and interoperable architecture you'd need to have a team rather than an individual developer.

Resource Intensive

Building and maintaining a full stack development team with diverse skill sets can be resource-intensive, including recruitment and ongoing training.

Evolving Technology Landscape

Keeping pace with rapidly evolving technologies in both front-end and back-end development requires continuous learning and adaptation.

Varied Device Support

Full stack developers may need to cater to a wide range of devices, including various types, versions, and application versions, posing challenges for universal compatibility and support.

Integration Challenges

Achieving seamless integration between front-end and back-end components can sometimes be complex, requiring meticulous planning and execution.
Future of Full Stack Development
The future of Full Stack Development holds exciting possibilities as technology continues to evolve and shape the digital landscape. Here are some key trends and potential directions for Full Stack Development:
Cross-Platform Development
With the rising popularity of cross-platform frameworks like React Native, Flutter, and Xamarin, Full Stack Developers will increasingly be tasked with creating apps that seamlessly run on multiple platforms, reducing development time and costs.
Serverless Architecture
Serverless computing is gaining momentum, and Full Stack Developers will need to adapt to building applications without worrying about server management. This trend promotes greater scalability and cost-efficiency.
AI and Machine Learning Integration
Full Stack Developers will play a crucial role in integrating artificial intelligence and machine learning into applications. They'll need to understand how to leverage AI tools and frameworks to create more intelligent and responsive applications.
Blockchain Development
As blockchain technology matures and finds applications beyond cryptocurrencies, Full Stack Developers with blockchain expertise will be in high demand to create decentralized applications and smart contracts.
Progressive Web Apps (PWAs)
PWAs are gaining traction as they combine the best of web and mobile app experiences. Full Stack Developers will need to adopt PWAs into their skill set for enhanced user engagement and reach.
Enhanced Security Measures
As cyber threats become more sophisticated, Full Stack Developers will need to be well-versed in implementing robust security measures and encryption techniques to protect user data and application integrity.
Edge Computing
With the growth of Internet of Things (IoT) devices, Full Stack Developers will need to adapt to edge computing, which involves processing data closer to the source. This requires a different approach to application architecture.
Low-Code/No-Code Development
The rise of low-code and no-code platforms empowers non-developers to create applications. Full Stack Developers will need to adapt by focusing on more complex and specialized tasks.
Continuous Learning
Given the rapid pace of technological advancements, Full Stack Developers must commit to continuous learning and upskilling to stay relevant and competitive in the field.
Collaboration and Teamwork
Full Stack Developers will continue to work closely with specialists in areas like UI/UX design, DevOps, data science, and more. Collaboration will be essential to deliver holistic solutions.
Difference Between Full Stack Development and Front-End Development and Backend Development
Full Stack Development, Front-End Development, and Back-End Development are three distinct roles or aspects within web development, each with its own set of responsibilities and skills. Here's a breakdown of the key differences between them:
Full Stack Development
Role
Full stack developers are versatile professionals who have expertise in both front-end and back-end development. They are capable of working on all aspects of a web application.
Skills
Front-End: HTML, CSS, JavaScript, popular front-end libraries and frameworks (e.g., React, Angular, Vue.js), responsive web design, user interface (UI) and user experience (UX) design.
Back-End: Server-side programming languages (e.g., Python, Java, Node.js, Ruby, PHP), databases (SQL or NoSQL), server management, API design and development, server security, and system architecture.
Responsibilities
Full stack developers can handle everything from designing the user interface to managing the server infrastructure. They work on the entire web development stack, making them capable of building complete web applications.
Front-End Development
Role
Front-end developers are responsible for creating the user interface and user experience of a web application. They focus on the visual and interactive elements that users see and interact with in their web browsers.
Skills
HTML: Markup language for structuring web content.
CSS: Styling language for designing the layout and appearance of web pages.
JavaScript: Programming language for adding interactivity and functionality to web pages.
Front-End Frameworks: Knowledge of popular front-end libraries and frameworks (e.g., React, Angular, Vue.js) for building complex user interfaces.
Responsibilities:
Front-end developers translate design mockups into functional web pages, ensuring that they are responsive, visually appealing, and provide a smooth user experience.
Back-End Development
Role
Back-end developers focus on the server-side of web development. They work on the logic, databases, and server infrastructure that power web applications, handling data storage, processing, and retrieval.
Skills
Server-Side Programming: Proficiency in server-side programming languages (e.g., Python, Java, Node.js, Ruby, PHP) to handle requests, perform computations, and interact with databases.
Databases: Knowledge of databases, including SQL (e.g., MySQL, PostgreSQL) or NoSQL (e.g., MongoDB) systems for data storage and retrieval.
API Development: Creating application programming interfaces (APIs) to enable communication between the front end and back end.
Server Management and Security: Ensuring the server infrastructure is stable, secure, and scalable.
Responsibilities:
Back-end developers are responsible for building the server-side components of a web application, managing data, and implementing business logic. They ensure that the application functions correctly and securely.
Industries That We've Served With Full Stack Development
Over the past 13 years, we've designed and developed applications and software solutions for a wide spectrum of industries with full stack development. Whether it's healthcare, lifestyle, IoT, AR/VR, gaming, enterprise, booking, fintech, or any other category, we have a rich portfolio of projects to showcase. Just name the industry, and we'll demonstrate one of our recent or past apps tailored to that specific field.
Tools & technologies used for full-stack Development
We research, strategize, and come up with the most steadfast and profitable model of the full-stack app for your business. Hire full-stack app developers to take advantage of technological advancements that give you an edge over your competitors.
Language

PHP

Javascript

TypeScript
Frameworks

Vue.js

AngularJS

React Js

Express Js

Node JS

Laravel
Database

Mongo DB

MySQL

GraphQL

PostgreSQL

MariaDB
Frequently Asked Questions
Ans: Agicent - you'll get a dedicated Project manager as point of contact and at the same time you can talk to the developer on your own too.
Ans: Agicent - As you can read above, a one full stack developer fully managed service will cost you $ 2900 monthly. On hourly it will be $ 20 per hour. We recommend you to start with the one dev team at $ 2900 and then add more people as the work grows. This plan is most economical, risk free and provides all the flexibility to grow the team as the work grows in a managed way.
Ans: Agicent - we can start within a week of finalizing your project requirements and signing the agreement.
Ans: Agicent - No minimum commitment required from your side. You can remove the team in a month or can run that for years. Also you can add or remove engineers and other skilled professionals anytime you want. Your minimum commitment will always be just 1 month.
Ans: Agicent - MERN Stack, React.js, node.js, express.js, spread.js, mongoDB, laravel and PHP, Python and Django and some more.
Ans: Agicent - Yes, if you want to bring any skill in the team from your side we'll be happy to work side by side.
Ans:
Agicent - Larger teams get much more discounted pricing, please email us directly to
[email protected]
and we'll create a custom large development team for you.
Ans: Agicent - We'll sign the confidentiality agreement with you along with the service agreement governed by the laws of the United States of America. Also each member of your team will sign a separate confidentiality agreement too.
Ans: Agicent - We'll replace the person quickly if we find nothing can be improved. Also, we let you meet and interview the developers before you finalize them for the project, and also we always keep a backup developer on the project for such scenarios and top of everything the "accountability" of delivering on time and in quality is of "Agicent" as an organization and not of individual developer. So we'll go forward and put right people and if needed replace them for your project needs.