Apps might be the thing for today. Although, if you still look on a larger context then having a website is the first thing that needs to be done. The intention behind having a website could be anything but the end result needs to be marketable. There are thousands of websites that are out there. This makes the task of you being noticed a little less. People might argue about the effectiveness but trust me a well-developed website ensures you of brand credibility, informativeness, and most importantly elegance. For this one can ensure to follow the latest trending designs in web development. Therefore in this article, we have mentioned the top web design trends that one can follow in 2020.
1.Photos and Illustrations
About: This kind of is being considered a lot in the current. The design allows you to choose from a list of vibrant colours making your website more vivacious. In this type of design, the designer would use photos along with illustrations that could have been hand made too. It is a popular trend that deserves to be mentioned in our list of top web design trends in 2020.
2.Patterns based Design
About: Pattern based design isn't highly uncommon in the current website development industry. A lot of people are interested in creating such designs as they represent a lot of coherence and are also quite appealing. There are a variety of ways one can use patterns. A lot of designers prefer to use it on the background while others might use it on the foreground. It all depends on how you conceive your idea but it surely deserves space in our top web design trends in 2020.
3.Black and White Design
About: If there is a classic then black and white would be it. These kinds of designs are generally used for art, portfolios, expensive brands etc. The design itself reeks of elegance and definitely amps up the minimalistic aspect. This is a great one since it blends well and if the imagery used is perfect for the brand, it will surely establish you as a brand. Therefore, we have mentioned it on the list of top web design trends in 2020.
4.Typography
About: There are a variety of designs that are attributed to this one. It is another simple yet effective top web design trend that is being followed. The type of typography that is being used depends solely on what you wish to achieve. Although, a decent variety of great looking websites are being designed like this. It is a great way for anyone to create their website especially if they display themselves as a brand.
5.Retro Styles
About: Well, a lot of designers are trying retro styles these days and the results look absolutely phenomenal. It is not hard to say but if you are looking for something full of style and poise then retro can be your way to go. It feels like a more detailed biopic of your product even though you are portraying minimal images. Therefore, this style of design deserves to be on the list of top web design trends.
6.Line Art
About: Are you someone who likes neat and clean designs. If yes then I must tell you that having a line based is your best bet. This type of design is currently being used on many websites and is a complete hit. These kinds of designs are generally being used for creating a professional-looking website with minimal designs. Therefore, we have mentioned it in our list of top web design trends that can be used for 2020.
7.3D and Faux-3D Design
About: Thinking of adding uniqueness to your designs, well, this is exactly what you are looking for. This type of design is generally executed in two ways: One would be interactive and the other is static. In static, the designer is using a 3D background generally although in interactive the moment you hover over an element, it becomes dimensional. An amalgamation of both these styles can often be seen in many websites making it a suitable choice for top web design trends.
8.Emotional Design
About: If you are a designer then you might know about colours and how they affect you emotionally. A great many cinematographers have used this technique but now many web designers use this concept to set the mood. Every colour imparts a certain psychological effect on your brain, this technique is often used to introduce a certain emotion the moment you watch it. It creates a proper effect and more often adds to the purchase value of your product. This is something that is often being used in the industry without us even noticing it. It is an enticing concept and should be mentioned in this list of top web design trends.
9.Dark UI
About: I bet you must have heard about Netflix. Well, the web service handles the concept Dark UI with so much suave. The application feels downright impeccably attractive and often motivates others to have a similar kind of design. Having a Dark gives you the comfort of playing with contrast. This kind of work is generally done to put the content on the front while the background isn't too distracting. It looks elegant and preaches of effective minimalism. There are a plethora of examples for this kind of look and therefore it becomes essential to mention it in this list of top web design trends.
10.No-Code Design
About: More than a way of designing websites, it is more of a way by which a lot of people are creating their own website. You must have heard about platforms like Wix, WordPress, Weebly etc are some popular names in the website development genre. These services allow you to create your website by using drag-n-drop. It is an effective way if you don't want to spend loads of money and still want something attractive & functional. It is generally used for either creating a portfolio or a blog making it a decent entry in the list of top web design trends.
11.Marquee
About: Bringing something from the past, Marquees were quite famous initially when websites started to become a little mainstream but were not so artistic. Although, this doesn't mean that can't be used now. In fact, this kind of design is getting famous again and it is being effectively being used as an element. It may not be as mainstream now as it used to be but the idea of it deserves some space in this list of top web design trends.
12.Geometric Shapes
About: A lot of people have tried this kind of design and it certainly looks quite impressive. One can try a variety of geometrical shapes to enhance the overall appeal of their website. It is a great way to fill in those empty blanks in your overall design. Also, if you are great with consistency then these can look absolutely wonderful and gratifying. It is another great technique and therefore has been mentioned by us in this list of top web design trends. 
13.Video Headers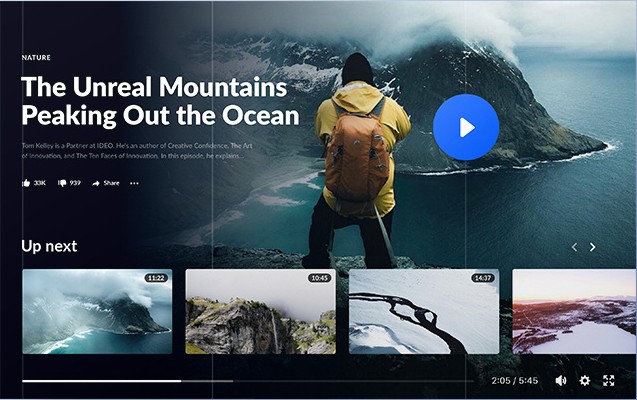 About: It was almost a dream for many to execute something like this. Although with the increase in internet speed and technology, it is now possible to use video in the header instead of static banners. Video Headers are a great way of telling about your website while one can also place big captions over it telling about your product. This style of design is still not that popular but some websites implement this design. It deserves a space in our list and therefore is a part of top web design trends.
14.Scroll Generated Website
About: Scroll Generated Websites are also a part of the running trend that we have right now for websites. In this, the user will scroll from top to bottom although it won't feel like that. The moment the user scrolls a certain pixel, the console will change and show you something else. It is another way of portraying minimalism where the end result doesn't feel cluttered with elements. This one is also effective and deserves a spot in our list of top web design trends.
15.User-Triggered Animations
About: This type of design is very common and is being used a lot by many people. This accentuates the overall appeal of your website and makes your content look a little more relevant. User-Triggered Animations makes your website feel a little more responsive and immersive at the same time. It is highly unlikely to find a design that isn't so unless you are checking out something from the 90s. It is important to mention this in the list of top web design trends. Although, how effectively one can use it depends totally upon the designer.
16.Glowing and Luminous Color Schemes
About: A lot of people have been experimenting with Glowing colour schemes and saturated. This type of website development is the baby of such kinds of experiment. A lot of neon effects are on the run where designers would voluntarily experiment with the colour scheme and the results are exquisite. It is one heck of a great design trend and deserves every bit of being in this list of top web design trends.
So these were some of the top web design trends that are being followed in 2020. Although, it totally depends on the product that you wish to market but inculcating new and unique design is your way to go. In case if you have been looking for an app or web development company then maybe we can help you. To send us an enquiry mail us at [email protected]. We have also written an article over Top 20 Cities for Digital Nomads in 2020 then click on the link provided. We hope this article may have been of some help to you. Also, thank you for reading this until the end.
Check out these guide about minimalistic website examples to get inspired from