In our previous posts, we have discussed a lot about different companies like app creation, app marketing etc. Now we are here again to talk about the Top Remote Job Posting Portals. Who doesn't want a good job today? But the competition made it much more difficult to get the work of your choice. Thousands of choices are always available for the job openings but you get trapped with finding and going for the right choice.
Jobs are always tempting which makes it a big risk for your career. So, I found this an useful idea to collect and discuss various job portals that are functional today. The only way you can select the best job from these portals is through comparative analysis of each one of these.
For a comparison, various factors have been considered here which I would like to mention as:
The demographic restrictions- whether it is local or a global portal.
Popularity across the globe.
Range of skills they have postings for, like marketing, technical, etc.
Whether it is free or paid.
The medium and sources they use for their promotion.
Based on all these factors, we shortlisted some of the Top Remote Job Posting Portals that stood above the others in terms of these features. The list goes as:
We work Remotely is one of the popular job portals for both companies and freelancers. It is a global site with job positions from all around the globe. Its users are guaranteed that possible online scams or surveys are not to be expected from this site.
In order for an employer to post a job at We Work Remotely, a fee of $200 for a single job is charged and the listing on the website for this specific job will run for 30 days. It is not restricted to any particular category. A variety of categories are included like Programming, Dev Ops and System Administration, Marketing, Business and Executive Management, Design, and Customer Support to be the most active ones. Thus with all features included in one, We work remotely is the first name when it comes to Top Remote Job Posting Portals.
They are confident enough to call themselves the no.1 digital nomad jobs board across the internet. They have achieved a reachability count of around 8,00,000 remote workers per month. The count is obtained through live traffic statistics that they provide. This means almost all the remote job seekers reach out Remote OK atleast once while looking for a job.
Remote OK includes jobs from almost all departments- tech or non-tech. The jobs are also categorized on the basis of departments like marketing or Human Resources, etc.  They socialize their job openings via Facebook or twitter. This makes it one of the Top Remote job Posting Portals globally.
Flex jobs is one of the most active career site with more than 37,000 job postings from over 5,000 companies. They are into all categories like industries, full-time or freelance opportunities and entry level to executive level jobs which makes it more sorted and easy to use.
Flex Jobs is not free. They charge around $15 per month for a minimum of a month.The amount is worth investing because in return Flex Jobs provides with a site free of ads and scams. At Flexi Jobs, you can create your resume with all your skills that makes it easier to find the best job. So, with all solutions, you should really give it a try once and can see whether its justified to include Flexi Jobs in this list of Top Remote Job Posting Portals.
The largest database is owned by Virtual Vocations holding over 10,000 nomad job postings. The job categories available on Virtual Vocations range from Business Services, to Travel, Education, Information Technology, Accounting, and even Non-Profit. Out of these, the most popular job category on Virtual Vocations is General or Virtual Assistant which includes Social Media Management, Administrative Tasks, Copywriting, and Design. In addition to these, there are many more sectors covered by virtual vocations.
Here you can sign up for a free account but if you would like to upgrade to a premium account, Virtual Vocations offers 3 subscription options — $15.99 monthly subscription, $39.99 for a 3-month subscription, and a $59.99 6-month subscription. In the free account, you get only a limited access to job postings.
Authentic jobs is a big name under this area. It is known for job openings for remote web designers and developers. This is mainly a job searching portal mostly for creative professionals like designers. It mostly offers jobs to the freelancers providing with a easy navigation through its board.
You can categorize and sort open job opportunities by Skills, Location, Levels, Company Type and Compensation. With a known name in the market, it surely deserves to be in this list of Top Remote Job Posting Portals.
Dribble is a community of graphic designers, web designers, illustrators, and other creative types who share and showcase their work and current projects using the platform. Companies and employers in need of designers, software developers and small studio can make use of Dribble to find the right match for their requirements in under 24 hours.
The satisfaction rating of dribble workers is around 93% and they have proven to work great without any hassle. The nomad jobs and remote work are gaining popularity day by day. Thus, dribble is also growing more and more gradually and surely deserves to be one of the Top Remote Job Posting Portals across.
It is a place where startups gather. Through AngelList, you can meet and come across different startups all over the globe. It  offers two options to choose from, you can either select interested or apply. If you are a freelancer, and you come across any such opportunity to work with a startup, you can select one of these and the startup will be notified of your interest and requirement. If its okay from both sides, you can build a match and can know further.
So, angelList works in this innovative and a different way. It opened new doors for  both freelancers as well as startups. As startups are building their own place and gaining importance in business, angelList is also a famous name now and is therefore included in this list of Top Remote Job Posting Portals.
Remotive is like a newsletter for the nomad job seekers. It features jobs listed down by job type, from Marketing, Sales, Human Resources and Customer Support. Remotitive is more like a community. This made me include Remotive in this list of Top Remote Job Posting portals.
They have a tagline that says,"You will never work alone." This prevails in remotitive blog and the community group where the members are called Remotivers. All remotivers support each other as a community and share productivity hacks for its betterment. It carry a very creative idea behind and should definitely be given a try.
This is a place where mission is long-term success. Its work goes beyond pairing up remote workers with clients and companies. Outsourcely focus at providing full time success and career to the remote workers which in turn leads to the success of startups and employers. Outsourcely is also great in terms of expenses. It takes no commission fees from the employers or the remote workers. The charges are to be discussed only between the employers and workers.
The jobs listed in Outsourcely include design and multimedia, sales and marketing, writing and content, and many more. Some special features offered by Outsourcely's site include direct video and chat messaging between freelancer and employers, and real-time customer support. This makes it one in the list of Top Remote Job Posting Portals.
Indeed is one of the largest job portals for advertisements. It pull data from across the internet worldwide to collect the job postings for remote workers. Job postings fall under categories such as industry or type, salary, location, company name, and experience level.
The huge variety of industries catered to by Indeed include engineering, education, real estate, and even arts, entertainment and publishing. With this, indeed have advertised over 2,000 jobs on their website which is a great achievement. Being famous worldwide, I brought it here to the list of Top Remote Job Posting Portals.
Jobspresso provides with a very easy to use website for  the remote job seekers. Jobspresso assures legitimate jobs only. Before advertising and including any job posting, the employers' profile and other social media accounts to avoid any sort of spams or fake employers.
Jobspresso's expertly curated job listing includes jobs in tech, customer support, marketing and more. With a built trust among the seekers, Jobspresso comes under this list of Top Remote Job Posting Portals.
The WFH.IO is having a job board focused mainly on digital and tech remote jobs. However, the listings on WFH.io include open positions in Marketing, Design, Development, Quality Assurance and System Administration. It promises to get rid and avoid any kind of  fake or scam profiles. The best part is that it is free for freelancers. It charges a reasonable amount $50 per job post that runs for 60 days. With a reasonable and low price, WFH.IO is getting famous among many remote workers and employers.
Till now we were talking about general job porting portals that includes different industry jobs. Travel Massive Marketplace is a different portal, in the way that it includes job openings and postings from only travel industry- as its name suggest. They work at bringing their members together to various community forums and events. The jobs page includes listings of jobs like travel blogging, video or film  making, editing, etc.
This is an interesting sights for those passionate travelers and people having zeal for travelling. As nowadays, more and more people are getting into travelling as a professional, Travel Massive Marketplace is gaining importance and is therefore included in this list of Top Remote Job Posting Portals.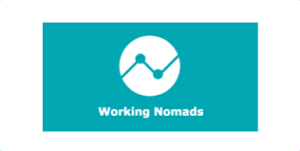 The remote job board of working nomads showcase a well curated and reliable list of job postings from various employers across the world. They attract job seekers from various fields such as marketing, design, sales, development, and many more.
For companies and recruiters,  potential employees and freelancers make up Working Nomad's list as the site attracts a good number of remote job seekers. With one of the best job options, working nomads got appreciations from various remote workers. Thus, it is brought here in this list of Top Remote Job Posting Portals.
In this list of Top Remote Job Posting Portals, Hubstaff  Talent  is the most recent website offering job postings for the remote employees. But in this short span of time, they have already been successful in creating a buzz in this nomad job community. The most positive aspect is that it is completely free of cost for all remote job postings. The payment is made directly from the employer to the freelancer and the contract for payment is previously which is being followed till the end.
Jobs are listed under categories such type, experience level, full-time or part-time, and country. The site is very easy to navigate and look for jobs. With such potential, Hubstaff Talent seems to be reaching heights in the near future.
Fiverr is the most popular place for freelancers. It is freelance marketplace where you can make service deals as per your convenience. The deals starts at as low as $5. After signing up you can create a "Gig" which is a statement of demonstration of the services provided by the employer. You can gain more through fiverr if you work more and get a good rating and reviews that can attract other employers. This is really a good platform to open up to new challenges. Gig charges some amount for the services. So, the main task here should be to find and make great deals by showing your skills.
Fiverr is the new sensation in the freelancer marketplace and is earning more and more popularity. Lets see how up is rises in the list of Top Remote Job Postings.
Just like Travel Massive Marketplace was focused on traveling jobs, problogger job board is concerned only with content writing jobs. Here you can get job postings for different different companies who are looking for someone to create content for their sites. It is a great and valued career choice nowadays and problogger job board is definitely one of the platforms to find these jobs without a hasle.
This is probably one of the most popular and known platforms. It is a global freelancing marketplace that connects businesses to independent professionals for collaborations and to work remotely. It was formerly known as oDesk, and above all it is free to signup to upwork.
What can be better than getting such services all free of any charges? This is enough a reason to count upwork in this list of Top Remote Job Posting Portals. The list of jobs available on Upwork range from Content Writing to Video Editing, Web Design, Research, and Programming.
This site is mainly for the consulting world. Whether you bring e-mail marketing expertise or are a whiz at building financial models, the SkillBridge site and model is a remote-worker-dream-come-true. So you dream of any such idea or are looking for some platform for this, you can surely give SkillBridge a try. Hopefully with right skills you'll end up finding what you were looking for previously.

This list won't be complete without the including Freelancer.com in it. It is a Australia based portal- it positions itself as a freelancer job market. It offers clients and businesses to most remote jobs that the freelancers can easily bid for. The site starts with free membership that can be upgraded to a paid one according to the plans for certain perks and benefits it offers. Its been reported that freelancer.com have over 20 Million users and 10 Million job postings made regularly.
The additional features include a built-in messaging system where client and freelancer can interact and discuss anything about their projects. You can also monitor  projects and productivity through time trackers. This makes it one of the best sites for freelancers.
Adzuna is a US based job board that helps employers find the right talent for their business. It has a dedicated section for remote jobs, where candidates can search and apply for remote positions available in different fields of industry and domain.
The unique feature that makes it prominent among other job portals are its resume grading processes which help employers assess the applicant's abilities to take the job. Adzuna also has an artificial Intelligent powered recommendation system which helps businesses find employees suitable for the roles they are looking for.
Honorable mentions
What do you do when you need to find some information on the Internet?
That's right, you use search engines such as Google, Bing or Yahoo!
Jooble is the same search engine with a small difference: it's designed for a job search. Jooble enables you to search jobs on the major job boards and career sites across USA.
Jooble automatically filters out duplicated jobs, so similar jobs, posted on several career sites, are shown as a single one. When performing a search, pay attention to the filters panel on the left side of the screen. It will help customize your personal search results and find a desired job.
Jooble finds relevant jobs in few seconds and saves your time.
Have a successful and productive search
With this we sum-up our list of Top Remote Job Posting Portals. It is surely a give-and-take process for both employers and nomad workers. This list may be be helpful to both of these categories in their own way. We did an in-depth research to compile this list but still if you feel like we missed out any name, you can reach  us out at [email protected] or you can mention in the comment section below.
For more of such articles, stay updated and tuned to our blog.
Other Related Articles: