Entrepreneurship is getting more popular day by day, leading to an increase in rising startups. But how many of them actually succeed?
Probably a very small number.
In the present competitive environment, nurturing startups proves to be a challenging task that necessitates a major time, effort, and resource commitment.
A successful startup's trajectory depends on a variety of variables, including a well-thought-out company plan, a skilled staff, excellent product quality, perceived value, industry knowledge, team cohesiveness, market position, and much more.
It takes a lot of skill to coordinate all of these parts in a smooth manner during the product development process.
Startups are under tremendous pressure to introduce their concepts to their consumer base quickly and measure their acceptance in the face of the fierce competition that currently exists in the sector.
In this blog, we're about to plunge headfirst into the dynamic world of MVP development, unfurling before you a handpicked anthology of the top 10 app development firms. These are the true maestros, specialists in the art of rapidly manifesting MVPs that capture the essence of your ideas and bring them to life with unprecedented precision and flair.
Overview: MVP Development Company
An MVP development company is a firm that specializes in the creation of minimum viable products (MVPs). An MVP is a product with just enough features to be released to early users and test the product's viability.
Here are some of the services that an MVP development company can provide:
Product discovery and idealisation: The company will help you define your product idea and identify the minimum features that you need to build an MVP.
MVP development and design: The company will develop and design your MVP, taking into account your target audience, budget, and timeline.
MVP testing: The company will help you test your MVP with early users and gather the required feedback.
MVP iteration: The company will iterate on your MVP based on user feedback and help you launch a successful product.
Additionally, an MVP development company can also provide you with guidance and support throughout the product development process. They can help you to:
Set realistic expectations: The company can help you to set realistic expectations for the MVP development process and getting the most out of your money.
Manage your budget: The company can help you to manage your budget and ensure that you are not overspending on the MVP development process.
Stay on track: The company can help you to stay on track with the MVP development process and make sure that you are meeting your deadlines.
If you are considering building an MVP, then an MVP development company can be a valuable resource.
Advantages of MVP Development for Startups
The development of a Minimum Viable Product (MVP) is a strategic strategy that entrepreneurs who want to build successful products while saving resources and reducing risks should strongly consider. Here are some of the key benefits that startups can reap from adopting an MVP approach:
Faster Time-to-Market: Building a full-featured product from scratch can be time-consuming and delay market entry. Startups may swiftly release a rudimentary version of their product thanks to MVP development, taking advantage of early market possibilities and gaining insightful customer feedback.
Cost-Efficiency: Startups often have limited budgets. An MVP development requires fewer resources compared to a fully-featured product, reducing development costs. This strategy ensures that your money is spent wisely, concentrating on the most valuable, vital aspects.
Risk Mitigation: Developing a complete product without any user input can lead to building features that users might not need or want. MVPs involve minimal investment upfront, reducing the risk of building a product that doesn't resonate with the target audience. Iterative development based on user feedback helps redefine the product's direction.
Iterative Improvement: MVP development allows startups to iterate and improve their product based on real-world usage and user feedback. This iterative process helps in creating a product that truly meets user needs and preferences, leading to higher customer satisfaction and retention.
User-Centric Approach: By launching an MVP and involving users in the early stages, startups can gather valuable insights into user preferences, behavior, pain points, and suggestions. The final product will closely match customer expectations thanks to this user-centric approach.
Validation of Assumptions: Startups often have assumptions about their target market, user needs, and product features. Launching an MVP provides a platform to test these assumptions in the real world. The feedback received helps validate or adjust these assumptions, leading to more informed decisions for their businesses.
Focus on Core Features: In the MVP approach, emphasis is placed on implementing core functionalities that solve a specific problem for users. This focus prevents feature bloat and ensures that the product remains streamlined and user-friendly.
Early Market Entry: Getting a functional MVP into the market quickly allows startups to establish their presence, build brand awareness, and attract early adopters. The early entry can provide a competitive advantage in capturing a share of the market before competitors arrive.
Attracting Investors and Partnerships: A well-executed MVP with positive user feedback and traction can make a startup more attractive to investors and potential partners. It showcases the startup's dedication to identifying an appropriate solution and its capability to implement a feasible business strategy.
Learning and Adaptation: MVP development encourages a culture of continuous learning and adaptation. Startups learn from real user experiences, which helps them decide whether to pivot, scale, or improve their product strategy.
Startups can quickly test their ideas, receive user input, and make data-driven choices thanks to the MVP development model.
By concentrating on essential functionalities and refining based on user feedback, startups can enhance their likelihood of developing a prosperous product while reducing risks and optimizing resource utilization.
Step by Step – MVP Development Process
The MVP (Minimum Viable Product) development process is a structured approach that empowers startups to bring their innovative ideas to market swiftly while collecting invaluable user insights for iterative improvement. Here's a step-by-step guide to the MVP development process:
Idea Definition and Conceptualization
Identify a specific problem or need in the market that your product target to address.
Develop a clear understanding of your target audience and their pain points.
Brainstorm and conceptualize a simple solution that could potentially solve the identified problem.
Feature Prioritization
List all the possible features that your product could have.
Prioritize these features based on their relevance to solving the core problem and delivering value to users.
Select only the most essential features for the initial MVP to keep the scope focused.
Design and Prototyping
Create wireframes, mockups, or prototypes of your product's user interface (UI) to visualize how it will work.
Design the user experience (UX) with a focus on simplicity and usability for the targeted audience.
Development of Core Functionalities:
Build the basic functionalities of the product that directly address the identified problem.
Implement the prioritized features, keeping the development scope minimal to speed up the development process.
Testing and Iteration
Launch the MVP to a limited audience, such as early adopters or a closed group of users.
Gather user feedback on their experience with the product, including what works well and what needs improvement.
Analyze the feedback to identify areas for enhancement and iterate on the MVP to address these issues.
Refinement and Enhancement
Use the feedback collected during testing to refine the user interface, fix any bugs, and improve the overall user experience.
Add new features or tweak existing ones based on user preferences and needs.
Continuous Testing and Feedback Loop:
Continuously test the updated version of the MVP with a broader user base.
Collect ongoing feedback and data to ensure that the product aligns with user expectations and delivers value.
Scaling and Expansion
As the product gains traction and positive feedback, consider scaling up to reach a larger audience.
Gradually introduce additional features and functionalities based on user demands and market trends.
Data Analysis and Decision Making
Analyze user engagement, conversion rates, and other relevant metrics to make informed decisions about the product's future direction.
Decide whether to pivot, continue iterating, or scale further based on the collected data.
Full-Scale Product Development
If the MVP proves successful and achieves its objectives, proceed with full-scale development to incorporate all planned features and functionalities.
Incorporating this step-by-step MVP development process enables startups to create a product that effectively addresses user needs, reduces risks, and maximizes the potential for success in the market.
Top 10 MVP Development Companies
In a landscape where success is increasingly defined by agility, innovation, and speed, choosing the right partner to craft your Minimum Viable Product (MVP) becomes a critical decision. The process of transforming a concept into a functional MVP demands expertise and finesse, and that's where the crème de la crème of MVP development companies step in.
We proudly present the top 10 MVP development companies that excel in swiftly and effectively converting visionary ideas into tangible MVPs. These companies possess the skills and experience to propel your concept from abstract thought to concrete reality, all while maintaining a commitment to precision and proficiency.
Agicent Technologies is a reputable MVP development company with more than ten years of expertise. Delivering excellent MVPs that go above and beyond for customers is the foundation of our reputation. Our skilled MVP development and design team is committed to bringing new concepts to life.
The comprehensive spectrum of MVP development services offered by Agicent includes:
Concept Development: Crafting and refining the core concept of the MVP, aligning it with the target audience's needs.
Wireframing and Prototyping: Creating visual representations of the MVP's user interface, enabling clients to visualize the product's flow and functionality.
App Development: Executing the development process, focusing on the core functionalities that address the identified problem.
Testing and Deployment: Rigorous testing to ensure that the MVP functions seamlessly and deploying it to a controlled audience for initial feedback.
App Marketing: Providing strategic guidance on introducing the MVP to the market, building anticipation, and attracting early users.
Agicent's MVP development services commence at a competitive price point of $2,900 per month. Additionally, Agicent offers a free consultation session to collaboratively assess client requirements and devise a tailored MVP strategy.
Stack: Leveraging React Native, Flutter, Ionic, Xamarin, and Angular
MVP Development Time: A swift 3-4 weeks to deliver a functional MVP
Established: A decade of experience since its inception in 2010
Team Size: An impressive team comprising over 200 professionals
Projects Completed: Demonstrating its prowess with over 1000 successful projects
Clutch Rating: A strong endorsement with a rating of 4.8/5 on Clutch
Price for MVP: Offering accessibility with an MVP development cost starting at $2,900 USD per month
Appinventiv is a mobile app development company that also offers MVP development services. They have a talented staff of MVP developers who can create MVPs for iOS, Android, and web platforms.
Established in 2015, Appinventiv has become a beacon of innovation in mobile app development, operating from India, US, and UK. They are more than just a mobile app development firm; they have perfected the art of MVP development, assisting startups, corporations, and even Fortune 500 organizations.
With a team of seasoned developers, Appinventiv crafts MVPs across iOS, Android, and web platforms. Their success story, which spans several sectors and clientele, demonstrates their adaptability and knowledge. They have a remarkable portfolio of more than a thousand applications. Above all, Appinventiv's client-centric approach promotes cooperation, communication, and a sincere commitment to turning original ideas into appealing MVPs.
They have a team of professional developers that are specialists in applying agile development approaches to swiftly and cost-effectively generate high-quality MVPs. Appinventiv's MVP development services start at $3,500 per month.
Stack: React Native, Flutter, Ionic, Xamarin, Angular
MVP development time: 8-10 weeks
Established in: 2014
Team size: 1000+
Projects completed: 5000+
Price for MVP: $15,000 – $30,000
Clutch Rating: 4.9/5
Core Service: Mobile App Development, Software Development, MVP Development.
Contus emerges as a standout MVP development company that has earned a reputation for its exceptional ability to unlock innovation through its MVP development services. With a firm belief in the power of cutting-edge technology and industry-leading practices, Contus boasts a team of skilled MVP developers who specialize in transforming conceptual ideas into functional prototypes.
What sets Contus apart is its meticulous attention to detail, user-centric design, and seamless development process. This approach ensures that every MVP developed by Contus not only meets client specifications but also resonates with the target audience. From concept to launch, Contus goes beyond standard practices to empower businesses and entrepreneurs to transform their visions into tangible and successful digital products.
Stack: JavaScript, Angular, React.js, Java, Python, PHP, Lumen
MVP development time: 4+ months
Established in: 2008
Team size: 300+
Projects completed: 1000+
Cost per hour: $25 – $49
Clutch Rating: 4.9/5
Core Service: Mobile App Development, Software Development, MVP Development.
Brainhub stands tall as a premier MVP development company, known for its exceptional prowess in crafting MVPs that set the stage for scalable ventures. With a team of experienced MVP developers at its helm, Brainhub excels in creating lean yet impactful MVPs that capture the essence of a product.
The company's dedication to agile methodologies, rapid iteration, and robust coding practices ensures that each MVP is not just a mere prototype but a strategic stepping stone for future growth.
This unique approach combines technical excellence with strategic thinking, making Brainhub a standout choice among MVP development companies. By assisting startups and enterprises in realizing their ideas and capturing market opportunities, Brainhub proves itself as a driving force behind innovation.
Stack: JavaScript, React Native, React.js, Node.js, .NET
MVP development time: unknown
Established in: 2015
Team size: 51-200+
Projects completed: 70+
Cost per hour: $50 – $99
Clutch Rating: 4.9/5
Core Service: Mobile App Development, Software Development, MVP Development
Future Processing has solidified its position as a trailblazing MVP development company, celebrated for its forward-thinking approach to product development. Their team of highly skilled MVP developers harnesses their deep technical knowledge to transform abstract concepts into tangible MVPs that speak to the market.
One of Future Processing's defining strengths lies in its commitment to comprehensive market analysis, user-centered design, and efficient development cycles. This approach guarantees that each MVP is equipped to meet user needs and market demands.
Future Processing's dedication to innovation and sustainability ensures that their MVPs not only succeed at launch but also lay the groundwork for sustained success and growth in the future.
Stack: Java, Angular, .NET, C++, PHP, Python, Node.js,
MVP development time: 3+ months
Established in: 2000
Team size: 1000+
Projects completed: 200+
Cost per hour: $50 – $99
Clutch Rating: 4.7/5
Core Service: Mobile App Development, Software Development, MVP Development
SoluLab has carved a niche for itself as a trusted MVP development company, renowned for its skill in transforming ideas into impactful Minimum Viable Products. What sets SoluLab apart is its team of MVP developers who are not only adept at coding but also well-versed in the art of translating concepts into user-friendly prototypes.
SoluLab's approach revolves around seamless collaboration, rapid development, and thorough quality assurance, ensuring that each MVP perfectly aligns with the client's vision and business objectives.
By emphasizing innovative technologies and scalable solutions, SoluLab empowers businesses to swiftly achieve market entry and establish a competitive edge, all while delivering maximum value to their target audience.
Stack: C++, Python, Swift, Node.js
MVP development time: unknown
Established in: 2014
Team size: 101-250+
Projects completed: 1500
Cost per hour: $25 – $49
Clutch Rating: 4.8/5
Core Service: Mobile App Development, Software Development, MVP Development
PurpleFire emerges as a dynamic MVP app development company that excels in igniting success for startups and established enterprises alike. The core strength of PurpleFire lies in its team of MVP developers who thrive on innovation, turning app ideas into captivating digital experiences.
Through a meticulous process of iterative design, seamless development, and rigorous testing, PurpleFire crafts MVPs that not only boast impressive features but also offer a user-friendly interface.
By combining creative thinking with technical expertise, PurpleFire stands out in the MVP development landscape as a partner dedicated to transforming app concepts into thriving, user-centric products that command attention in the market.
Stack: JavaScript, Python, Node.js, Vue.js
MVP development time: unknown
Established in: 2012
Team size: 51-200+
Projects completed: unknown
Cost per hour: $50 – $99
Clutch Rating: 4.9/5
Core Service: Mobile App Development, Software Development, MVP Development
Atta Systems distinguishes itself as a precise and expert MVP development company, specializing in crafting MVPs with the utmost precision and expertise. The company's team of seasoned MVP developers approaches every project with meticulous planning, rapid prototyping, and flawless execution.
What sets Atta Systems apart is its unwavering commitment to transparent communication, robust development methodologies, and insights driven by market trends. As a result, each MVP developed by Atta Systems not only meets the client's exact specifications but also embodies the essence of their business goals.
By offering a seamless and efficient MVP development process, Atta Systems positions itself as a reliable choice for businesses seeking top-notch MVP development services.
Stack: Angular, React, Vue.js, Flutter, React Native
MVP development time: 1+ month
Established in: 2015
Team size: 11-50+
Projects completed: 30+
Cost per hour: $50 – $99
Clutch Rating: 5/5
Core Service: Mobile App Development, Software Development, MVP Development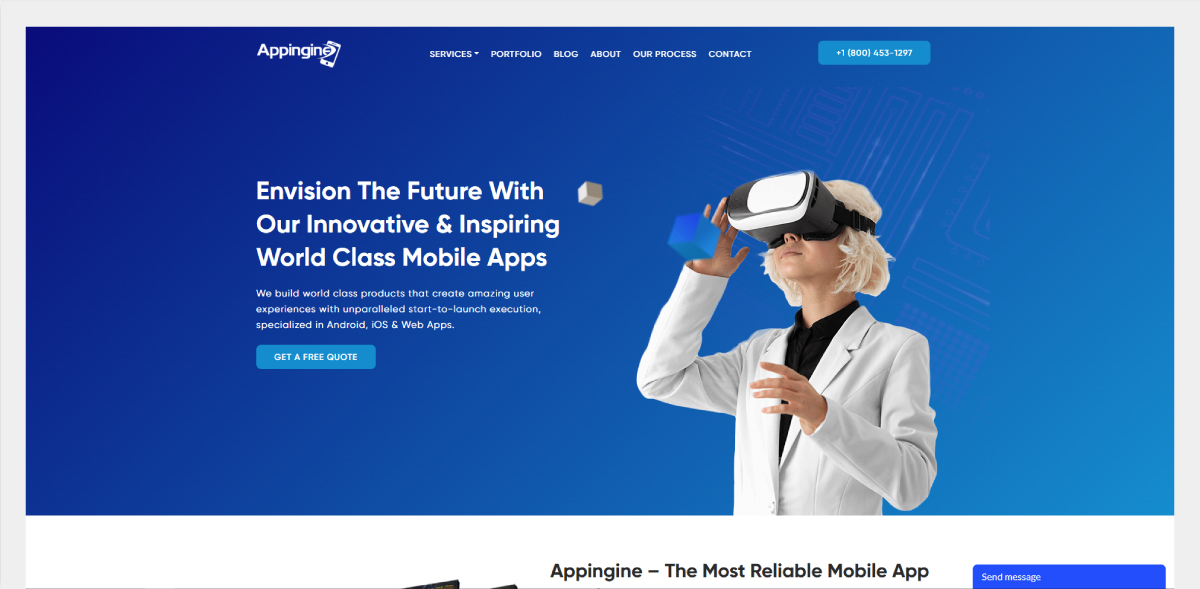 Appingine thrives as a prominent MVP development company, celebrated for its ability to accelerate success through its MVP development services. The company's skilled MVP developers excel in creating MVPs that go beyond mere functionality to encapsulate core features and engage users effectively.
Appingine's approach revolves around optimizing user experience, iterative development, and seamless integration, resulting in MVPs that seamlessly align with the client's vision and market demands.
By emphasizing innovation and swift validation, Appingine empowers businesses to bring their app ideas to life in record time, positioning them for a successful entry into the market and sustained growth.
Stack: Flutter, Java, Swift
MVP development time: 3+ months
Established in: 2008
Team size: 101-250+
Projects completed: 800+
Cost per hour: $25 – $49
Clutch Rating: 4.7/5
Core Service: Mobile App Development, Software Development, MVP Development
Alphonic Network stands as a dependable MVP development company, esteemed for its expertise in building strong foundations for digital products. With a dedicated team of MVP developers, Alphonic Network excels in transforming conceptual ideas into tangible MVPs that perfectly align with the client's objectives.
The company's commitment to efficient development cycles, rigorous testing, and robust coding practices ensures that each MVP is reliable, functional, and ready for market entry.
Alphonic Network's emphasis on delivering exceptional user experiences and tangible value solidifies its position as a valuable partner for businesses aiming to create a strong foundation for successful product journeys.
Stack: PHP, Laravel, Angular.js, React Native
MVP development time: 1+ month
Established in: 2013
Team size: 60+
Projects completed: 700+
Cost per hour: $25 – $49
Clutch Rating: 4.7/5
Core Service: Mobile App Development, Software Development, MVP Development
Conclusion
MVP development is a critical step in the product development process. By creating an MVP, you can test your idea, validate your market, and gather feedback from users. This information can help you make informed decisions about your product development process and make sure that you are building a product that meets the needs of your target market.
If you are interested in learning more about MVP development, or if you would like to partner with Agicent Technologies to create your MVP, please contact us today. We would be happy to discuss your project and help you bring your idea to life.
Frequently Asked Questions