Are you also struggling to find a marketing agency for your business? Probably it would be yes atleast at some point of time. Since few years, marketing have gained a lot more importance in terms of business be it app or any other product marketing.In general if you ask me to define marketing, I would say- It is the best way to present your product and reach out to the right person in order to make it a named success. With the increasing market competitors, if you create an awesome app in all aspects with salient features, but fail to advertise it to the audience, all your efforts will drown because you couldn't impress the audience who define your success.
So, by this time, you surely might have got an idea of how production and its marketing goes hand-in-hand. Marketing in  itself is a whole new department in business. There are several agencies that provide you with the best marketing solutions. If you really want the best of them, you are at the right place as we have selected the Top App Marketing Agencies here. The main motive of these app marketing agencies is to boost your app's download stats and make it a success number so that it can easily be discovered on the app stores.
There can be thousands of strategies to follow in the app marketing business. It just depends on what best works for you. All the companies listed here follow some or the other marketing strategy whichever they believe in. For getting down to this conclusion, we have taken various factors into consideration which may be listed as-
The number of years they have been into the app marketing business.

The uniqueness they carry in the app marketing strategy.

The demographics they serve and have been more active.

The online rating and customer reviews on various sites like clutch and goodfirms.

Their overall performance, media existence and  presence over different sources.

The clients and customers they have served in their business span which gives them a reputation to hold.
With all these factors and considerations, the list of Top App Marketing Agencies goes as:-
1.Cyber Infrastructure Inc.
The first name in the List of Top App Marketing Agencies can surely be CIS as they are into this business since 14 years now. It was established with the aim to help customers succeed through high IT skills, and to bring in new employment opportunities in different countries and aid in country's social development. They have also attained a place where many companies fail to reach. Just as their Tag line- "We make it possible", they have proved this true by providing solutions to all the technology needs. They are now widespread among different verticals like hospitality, music, industrial manufacturing, etc. The company is now established in 5 countries like US, UK, India, Singapore, South Africa.
Clients– eBay Inc., Nokia, sprint.
2.SeoEaze
SeoEaze is successfully working since 2009, providing digital marketing solutions to clients worldwide. The company comprises of an expert team of professionals who know how to offer the best services to the clients and keep them satisfied. They expertise not only in  SEO but also cover content marketing, social media, digital marketing and more. With around 9 years of experience and knowledge, they have increased the client count which now comprise of small and big businesses. They have proved to be a trusted agency and therefore, holds a place in this list of Top App Marketing Agencies.
Clients– DHFL, BIBA.
3.Five
Five is an App Marketing Agency based in Brooklyn, New York. It was setup back in 2007 and is being serving a large number of clients with their innovative solutions. They set the growth strategy, deliver the product, and continually track, analyze and optimize all the funnels. They are involved into research, design and development and growth marketing for your business. They are known for some of their famous case studies like Moonlight and Rosetta Stone. Hence they cover all the aspects involved in the app marketing and is therefore included in this list of top App Marketing Agency in US.
Clients– Mariott International, Napster.
4.Blue Label Labs
It was established in 2009 and is based in US. They are known for providing end-to-end solution in the app development cycle- from development to app launch and also maintenance post launch. With its offices in New York City and Seattle, its portfolio consists of more than 150 apps developed and launched by themselves. With everything under a roof, they surely are one of the Top App Marketing Agencies in the US.
Clients– American Express, Bloomberg.
5.Moburst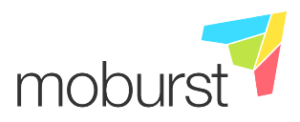 Moburst is an app marketing agency based in San Francisco, California. It is a global mobile success company that helps leading brands and startups master the mobile arena. Their main specialty is helping companies conquer their toughest challenges through cost-effective, creative, and innovative mobile marketing campaigns. They specialize in app optimization and have more than 3800 marketing campaigns for different clients. They provide with unique marketing solutions and have reached the top 10 Chart for 225+ times. With all these establishments and achievements, they truly deserve a place in this list of Top App Marketing Agencies.
Clients– Uber, Samsung.
6.Thinsquare LLC.
Thinsquare is a USA based digital marketing agency established in 2012. In these years, even less than a decade, it is known for solutions like Web Development and E-marketing Services to the clients belonging to the different corners of the world.They are usually being praised by clients for the competitive prices that they offer. They have already completed 100+ projects maintaining the quality of work delivery. They also consider customers as their priority and therefore have excellent customer reviews.
Clients– LeadAction.
7.Appency

Working since 2009, Appency is a team of mobile marketers that serves you and hence you can make a big noise in the app ecosystem. It is an app specific marketing agency that work with different business bodies. It has proved themselves to be the best in dealing with small as well as global business firms. Appency has already worked with many Fortune500 companies and various small business startups as well- which makes it a trust worthy organisation and we can surely name it under the Top App Marketing Agencies.
Clients– FOX-digital entertainment, National Geographic.
8.Dot com infoway
It holds 18+ years of experience in the same domain. A tremendous growth is being observed in the recent years. The client count, projects, employee count all have grown remarkably since they were established. It deals in both development as well as marketing of apps which makes it more versatile when you are searching for a complete pack of solutions under one roof. They bring out new marketing plan almost every month thus providing with innovative solutions.They are quiet flexible that impresses the clients more. The marketing team follows the digital marketing strategy and the team is very knowledgeable about their work.
Clients– Yahoo!, TVS Group.
9.Techmagnate
It is a company that basically deals with marketing of apps and follow digital marketing campaign solely. They have professionals for all divisions of digital marketing like content marketing, SEO, PPC, etc. They are doing quite well following digital marketing as their strategy because almost every industry has implemented digitization. With expertise in digital marketing, they are definitely one of the Top App Marketing Agencies globally.
Clients– Wynk Music, My Airtel.
10.QMobi
It is a agency that works in quite a different way with unique solutions and strategies.  They believe in doing things that the others say are impossible or beyond approach. It is originally based in San Francisco, CA but provides with solutions to the clients and customers worldwide. An excellent way of marketing and promotions is being adopted by them which gets them a place in this list of Top App Marketing Agencies.They use social media, contextual advertising and also work with the largest advertising networks of RTB- and mobile traffic (Smaato, AdColony, Tapcore, Vungle etc.) for lead generation.
With this we end our list of Top App Marketing Agencies, though there are many more but taking under consideration the factors mentioned above, we tried to collect the best out of them. So if you are the one looking for your app marketing, you can surely have a look at the companies mentioned in the list.
If you have any suggestions or idea for the same, you can write us back to [email protected] or you can mention in the comment section below. Your views are appreciated.
For more such lists and articles, stay tuned with our blog and keep reading.